Supported Small-Group Holidays with Dementia Adventure
We believe with the right support anything is possible, which is why we offer small-group holidays for people living with dementia, enabling them to get away with their friends and family.
Our small group holidays are always popular and sell out fast! Enjoy five days, or a long weekend, of fun and relaxation, with people in a similar situation to you. We take care of the details so you can get the most out of our hand-picked accommodation in a variety of beautiful destinations across the UK.
We've offered supported dementia holidays for well over a decade. We understand the complex and individual needs of people living with dementia. Whether you're looking for an alternative to respite—where everyone gets a rest, or an opportunity to have an adventure with your loved ones, we'll support you to have the holiday you deserve.

Our holidays are available to people from all walks of life. To make them affordable, 25% have subsidised our listed prices. We don't want finance to be a barrier to you getting the holiday you need. If the subsidised price of the holiday is out of reach, please contact us. We will help to make your holiday possible.
This year we are offering beautiful accommodation in a host of stunning holiday destinations around the UK. From the mountainous Lake District, to the wide open beaches of North Norfolk, the wildness of the Welsh border and the charm of the Isle of Wight, there is a holiday to suit all tastes. In 2022 we are offering weekend breaks in the Peak District and the Isle of Wight (subject to availability).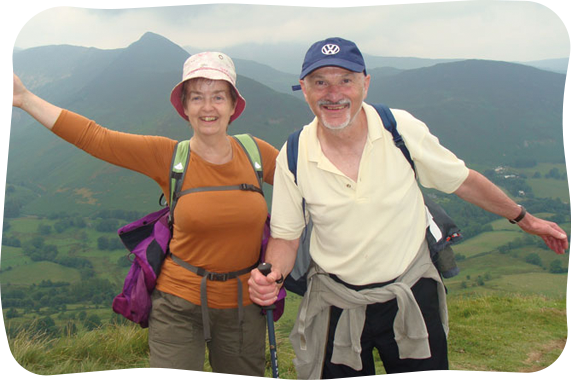 On a Dementia Adventure holiday you can expect to feel relaxed, and to have fun. Our person-centred approach means we get to know you before you go, to find out what you enjoy and what support you need.
The holiday planning is all done for you, or with you, from accommodation, to travel, days out and meals. Our experienced and fully trained team will be on hand 24/7 and our well planned itineraries ensure there's plenty to enjoy, whether you want to relax by the coast, walk in the mountains or explore historic sites. Our focus is on what you can achieve rather than what you can't. We'll be encouraging you to have fun and to engage with the wellbeing benefits of being outdoors.
We offer:
Once you have submitted your online reservation request, we will contact you by email to request information that will help us to keep you safe and make sure you get the best from your holiday.
The questions will be about your health, diet, mobility, hobbies and interests. We will then call you to discuss your booking, answer your questions, and clarify payment terms. Your booking is confirmed once we receive your deposit. We'll then take care of all the holiday planning for you, from accommodation, to travel, days out and meals.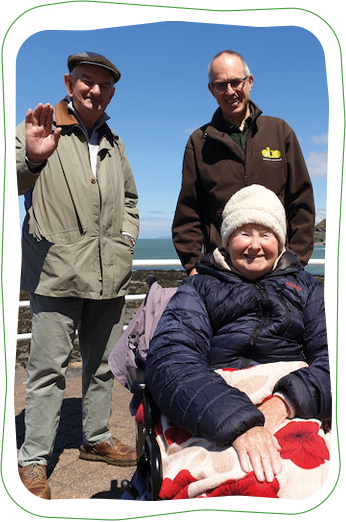 Support while you're away
An experienced Adventure Leader will join you on the holiday to take care of all the day to day practical details, along with at least one supporter for every person living with dementia.
We'll be with you 24 hours a day, able to do all the cooking and driving, assisting at mealtimes, and accompanying you on days out. We are an extra pair of hands, eyes and ears so you can relax and benefit from the break. We'll be sensitive to your individual needs, encouraging independence and meaningful activity where possible, and providing as little or as much support as you require.
We are:
While away, you'll enjoy a range of trips and activities. Depending on the destination you could be seal watching, boat sailing, walking in a nature reserve or visiting a farm.
We focus our activities on those that enable you to access the all well-being benefits of connecting to nature and the outdoors. Due to the continuing Covid-19 situation, we cannot confirm the itinerary until two weeks before your holiday.
You will enjoy delicious food prepared by our team, with a menu created to suit your requirements, as well as picnics and pub lunches on our days out.
We like to make the most of your time together. On the first day you will arrive in time for a late lunch or depending on the venue an afternoon tea, and leave after lunch on the last day of your holiday.
Who are our Supported Group Holidays suitable for?
We ask that people living with dementia come with someone who knows them well. It could be a friend, relative or main carer. We do not provide personal care. We expect the person with dementia to manage day-to-day activities such as getting out of bed, dressing and washing with the support of the person they are holidaying with.
Most of our breaks are suitable for wheelchair users and people with limited mobility (see each individual holiday for details). On some of the holidays there are two steps into the minibus which you would need to manage, please speak to us for more information. If you don't think this is for you, we can offer you a supported tailored holiday instead.  
The price you pay includes:
A Typical Dementia Adventure Supported Holiday
People living with dementia can often feel that things like holidays and travel are no longer available to them, but we specialise in creating small group holidays for people living with dementia, their partners, family, friends or carer to enjoy together.
The price of your holiday
As a charity we fundraise to make our holidays more affordable for everyone. On average we subsidise every holiday place by 25%.
The advertised price covers your entire holiday, including 24/7 support, food and activities. Unless there are breakages or damage, we will not bill any additional expenses. Depending on the location a typical five day holiday is currently between £850 to £1,300 per person.
We know that getting a break is essential for people living with dementia and their families. And we know that funding your holiday can sometimes be difficult. We don't want finance to be a barrier to you getting the holiday you need. If the price of the holiday is too high for you, please contact us, to speak to us in complete confidence. We are waiting to hear from you to help make your holiday possible.
For those who can afford to pay the listed price, you have the option to make a further donation. Your donation will help us to support those who cannot afford a holiday to get away. If you would like to make a holiday donation, please contact us.
We want you to have fun on your holiday, but your safety is our top priority. We will follow any new Government guidance and COVID-19 procedures.
We ask you to make your own way to the holiday meeting point. However, if this is an issue for you, please discuss it with us. We may be able to arrange transport to and from your holiday at an additional cost. During your stay we will transport you to all your day trips and activities in our Dementia Adventure minibus.
If you need help to get to and from your holiday, we highly recommend Driving Miss Daisy, who will provide you the high quality, door to door transport service you need.
Driving Miss Daisy is an international companion and driving service, renowned for offering a safe, caring and reliable service for people who find it difficult to get out and about. With more than 30 service delivery teams across the UK they offer personal assistance from the customer's living room to the starting point of their holiday. All the drivers are DBS checked, private hire licensed and first aid trained to ensure they can assist you with the highest level of care. The drivers are also Dementia Friends. For more information and to book their services visit https://drivingmissdaisy.co.uk/.  
We strongly recommend that you take out travel insurance for your supported holiday. We do not recommend specific providers and suggest that people do their own research. Please read our  Terms and Conditions, which includes our cancellation policy.
Confidence found in alternative to respite
We took couple Barbara and Sue, who lives with Alzheimers, and their beautiful collie, Molly, for their first supported holiday in Norfolk.
Lockdown was extremely tough on both of them; the inability to connect to other people or get to usual support groups and activities put a lot of pressure on them both. It was especially difficult for Barbara. For the first time, she took a week's respite in Sept 2020, and again April 2021. However, she found the breaks hard because she wanted to share a holiday with Sue—something that they felt was no longer an option for them, until they heard about Dementia Adventure.
Naturally, before the holiday Barbara had a few concerns about how Sue would cope, being somewhere new, and with interruptions to their usual routines.
Once away, Barbara and Sue both relaxed. They were immediately happier.
And after an incredible confidence boost, the couple have a new-found confidence to get out more back home.
Reserve your 2022 holiday