Supported Small-Group Holidays with Dementia Adventure
We believe that with the right support—whether practical, emotional, or financial—anything is possible, which is why we offer small-group holidays for people living with dementia and the people who care for them.
Our small group holidays are always popular and sell out fast! Enjoy five days of fun and relaxation, with other people who are living through similar experiences to you. We take care of the details so you can get the most out of our hand-picked accommodation in a variety of beautiful destinations across the UK.
We've offered supported dementia holidays for well over a decade. We understand the complex and individual needs of people living with dementia, as well as how carers can benefit from having the chance to relax and enjoy time with their loved one while we take care of all the planning and background tasks. Whether you're looking for an alternative to respite in which everyone gets a rest, or an opportunity to have an adventure together, we'll support you to have the holiday you deserve.
Our holidays are available to people from all walks of life. We don't want finance to be a barrier to you getting the break you need, so in response to the current cost of living crisis, we are subsidising our holidays by a minimum of 30% in 2023, already reflected in our listed prices. However, if the price of our holidays is still out of reach, we might be able to offer you further financial help, as well as support you with finding additional funding. Find out more here, or contact us if you're still feeling unsure. We will help to make your holiday possible.
This year we are offering beautiful accommodation in a host of stunning holiday destinations around the UK. From the lofty peaks and dips of the Lake District to the wide open beaches of North Norfolk, the rugged heather fields of Scotland to the charm of the Isle of Wight, there is a holiday to suit all tastes.
On a Dementia Adventure holiday you can expect to feel relaxed and have fun. Our person-centred approach means we get to know you before you go, finding out in advance what you enjoy and what support you need.
The holiday planning is all done for you, or with you, from accommodation and travel to activities and meals. Our expertly-planned itineraries ensure there's plenty to enjoy, whether you want to relax by the coast, walk in the mountains, or explore historic sites.
Before you go, you'll be invited to a Zoom meeting so that you can meet the Dementia Adventure team, as well as your fellow holidaymakers. This is your chance to get to know the up to three other holidaying pairs who will be joining you, all looking for the same chance to unwind and have a great time among gorgeous, natural surroundings. Some end up staying in touch with each other after the holiday ends, and even form lasting friendships.
Our focus will be on what you can achieve rather than what you can't. We'll be encouraging you to have fun and to engage with all of the wellbeing benefits of being outdoors.
We offer:
Once you have submitted your online reservation request, you will receive an email requesting information that will help us to keep you safe and ensure you get the best from your holiday, with questions about health, diet, mobility, hobbies, and interests. Once we receive your reply we will contact you and arrange a suitable time to discuss the holiday and answer any questions you may have.
Please note that a total deposit of £200 per two-person booking will be due within two weeks of receipt of invoice, which will be emailed to you upon submission of your reservation request. Your booking is confirmed once we receive your deposit.
While away, you'll enjoy a range of trips and activities. Depending on the destination you could be seal watching, sailing, visiting a farm, or walking through the glorious scenery of a nature reserve.
We focus our activities on those that enable you to access all the wellbeing benefits of connecting to nature and the outdoors. Potential activities and excursions will vary according to which location you're holidaying in; take a look at our 2023 Holidays for more detailed examples of possible itineraries.
You'll enjoy picnics and café or pub lunches on our days out, and delicious meals prepared by our team when at 'home' back at your accommodation. We'll craft a tasty menu to suit your dietary requirements and share mealtimes together in the communal eating space.
Meals on the First and Last Days of Your Holiday
We like to make the most of your time together. On your first day you will arrive in time for a late lunch or, depending on the venue, an afternoon tea. On the last day of the holiday we'll enjoy a farewell brunch together, and then we'll pack you up a tasty little picnic for your journey home.
An experienced Adventure Leader will join you on the holiday to take care of all the practical day-to-day details, along with at least one supporter for every person living with dementia.
Our experienced and fully-trained team will be on hand 24 hours a day to do all the cooking and driving, assist at mealtimes, and accompany you on days out. We are an extra pair of hands, eyes, and ears so you can relax and benefit from the break. We'll be sensitive to your individual needs, encouraging independence and meaningful activity where possible, and providing as little or as much support as you require.
The Dementia Adventure holiday teams are friendly, positive, and hands-on. Experienced staff and fully-trained volunteers, we're there with you because we want to be; we love what we do, and we want you to love your holiday!
We are:
Who Are Our Supported Group Holidays Suitable For?
We ask that people living with dementia come with someone who knows them well. It could be a friend, relative, or main carer. We expect the person with dementia to manage day-to-day activities such as getting out of bed, dressing, and washing with the support of the person they are holidaying with. We do not provide personal care, but for an additional cost can often arrange it if needed.
Most of our breaks are suitable for wheelchair users and people with limited mobility. On some of our holidays we use a minibus which has two steps for getting in and out, which you would need to be able to manage (see individual holidays for details). Please speak to us if you need more information on this.
If you don't think this is for you, we can offer you a supported tailored holiday instead.
The price you pay includes:
A Typical Dementia Adventure Supported Holiday
People living with or caring for someone with dementia can often feel that things like holidays and travel are no longer available to them, but we specialise in creating charming, fun-filled small-group holidays for people living with dementia and their partners, family, friends, or carers to enjoy together.
The Price of Your Holiday
As a charity we fundraise to make our holidays more affordable for everyone. This year, we're responding to the current cost of living crisis by subsidising our 2023 holidays by a minimum of 30%.
Depending on the location, a typical five-day holiday is currently between £1,000 to £1,350 per person. After making your payment (including your deposit), there will be no more additional charges. The price you pay includes accommodation; food; transport; activities; around-the-clock support for the length of your trip; and all the organisation in the run-up! Behind every holiday there is a crew of people hard at work to ensure your trip goes off smoothly and safely, from scouting and booking locations to the nitty-gritty of meal plans and health-and-safety checks.
By running our holidays on a not-for-profit basis, working with fully-trained volunteers, and using donations and funding from our supporters to cover at least 30% of the holiday cost, we aim to give a break to as many people who need one as possible—regardless of their financial situation.
Unless there are breakages or damage, we will not bill any additional expenses.
Dementia Adventure is a member of the Travel Trust Association. This means that your payment will be placed in a trust account and protected by the TTA's Guarantee, ensuring that your money is kept safe and secure in the lead-up to your holiday.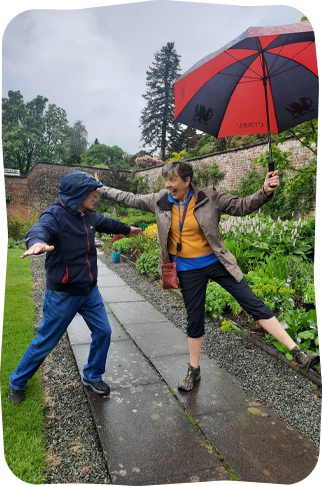 Our holidays are available to people from all walks of life. We know that funding your holiday can sometimes be difficult. Because we don't want finance to be a barrier to you getting the break you need, this year we're subsidising our holidays by a minimum of 30%
These subsidised prices are the ones you'll see when you check the listed price for each destination, and are made possible using the donations we receive from our supporters.
However, if the price of our holidays is still out of reach we might be able to offer you further financial help, support you with finding additional funding, or both. Find out more here, or contact us if you're still feeling unsure. We will help to make your holiday possible.
What we offer:
For those who can afford to pay the listed price, you have the option to make a further donation. Your donation will help us to support those who cannot afford a holiday to get away. If you would like to make a holiday donation, please contact us.
We want you to have fun on your holiday, but your safety is our top priority.

We understand that there are many for whom COVID-19 is still a concern. Rest assured that we'll keep up-to-date with the latest government guidance and follow any new COVID-19 procedures put in place. In the meantime, we are continuing with sanitisation and cleaning precautions. Every member of our face-to-face delivery team is fully vaccinated and we ask the same of all holidaymakers.
For more information, please read our COVID-19 Statement.
While On Holiday
During your stay with us we will transport you to all of your day trips and activities in our Dementia Adventure minibus.
To and From Your Holiday
We ask you to make your own way to the holiday meeting point if possible.
If you need help in getting to and from your holiday, we highly recommend Driving Miss Daisy, who will provide you with a high-quality, door-to-door transport service.
Driving Miss Daisy is an international companion and driving service, renowned for offering a safe, caring, and reliable service for people who find it difficult to get out and about. With more than 30 service delivery teams across the UK they offer personal assistance from your living room to the starting point of your holiday. All the drivers are DBS checked, private hire licensed, and first aid trained to ensure they can assist you with the highest level of care. The drivers are also Dementia Friends. For more information and to book their services visit https://drivingmissdaisy.co.uk/.
If you still have concerns about getting to and from your holiday, please don't hesitate to get in touch and discuss it with us.
We strongly recommend that you take out travel insurance for your supported holiday.
Though we don't recommend specific providers, if you need advice we do suggest taking a look at website MoneyHelper, which contains an excellent free guide on how to get travel insurance when you have a pre-existing medical condition or disability. Please don't forget to read our Terms and Conditions, which include our cancellation policy.
The Value of Being Together—and with People Who Are 'In The Same Boat'
On their first supported group holiday to Devon, couple Rosie and Jon found that the trip filled them with positivity and confidence.
Rosie supports her husband, Jon, who has early onset Alzheimer's. Rosie found their last solo trip together very difficult because she 'was used to doing things as a team'. It was while they were away that she realised she'd gotten to the stage where she couldn't take Jon on holiday on her own anymore.
When she came across Dementia Adventure holidays, she was nervous about the idea of a group holiday because it wasn't what they were used to. But as soon as Rosie met the Dementia Adventure team, she felt her mood lifting.
Not having to plan and shop for meals made a huge difference, and having things like activities and transport organised for them in the background really helped the pair to enjoy the holiday.
Having at first been nervous about going on holiday with other people, Rosie found she enjoyed having somebody else to chat to who was 'in the same boat'. Back at home, she's found that she is now more confident about going out and advocating for Jon's needs without being embarrassed.
Reserve your 2023 holiday