Dementia support through a pandemic
Today we have an astonishing 900,000 people in the UK living with some form of dementia, supported by around 700,000 informal or family carers. These numbers are still growing—set to hit 2 million by 2051.
As the only UK top ten cause of death without a cure, enabling people to live well with dementia is the challenge and it is why Dementia Adventure exists.
Even excluding deaths due to Covid-19, twice the number of people with dementia died at the peak of the pandemic than expected1. Starved of connection with the outdoors and their community, dementia symptoms accelerated. In care homes, even emotional connections with family were lost. By 2021, family and friends caring at home – those who keep the UK dementia care system running—were in their second year of being on call 24/7, alone and exhausted.
Dementia Adventure, a charity now in its 13th year, provided support throughout it all. We adapted and continued to enable people with dementia to lead healthier and more active lives: bringing emotional, social and physical benefits to them and their families. Some supported holidays went ahead, with full adherence to Covid safety requirements. We provided virtual training and support to 2,516 people, compared to 2,012 in 2020, while maintaining excellent feedback.
We have run family carer training events since 2016 in response to families who told us they were not being given essential information and skills. The need is no less great today: a recent Government inquiry concluded that "England's 700,000 unpaid dementia carers too often face a lonely struggle to access care or even a full diagnosis for a loved one."2 And Carers UK recently found that 61% of unpaid carers feel uncertain about what practical support they may be able to access in the next year3. I know Dementia Adventure will be there.
Fiona Petit, CEO, Dementia Adventure
1 The Alzheimer's Society: 'Worst Hit: Dementia During Coronavirus'. 2 Supporting People with Dementia and their Carers, 29 October 2021. 3 Carers UK: State of Caring 2021 Report.
Since we were established in 2009, we have:
Trained
17,384
individuals
Provided
957
places on a supported dementia holiday
In 2021, Dementia Adventure achieved amazing things amid a global pandemic. Overall, we:
Trained
2,516
people who support someone living with dementia.
Delivered
24
supported dementia holidays, providing 78 opportunities for someone to get a break.
Directly supported
3,471
people.
Reached over
50,000
people with our message about the importance of engaging with nature when living with dementia.
Enabled our amazing volunteers to donate
3,447
hours, valued at
£52,190
.
The impact of our supported holidays and breaks
The challenges of dementia can make holidays feel impossible. And yet caring can be exhausting and breaks are essential. Carers' support has been valued at a staggering £530 million per day during the pandemic, or £193 billion for a full year—outstripping the value of the NHS4.
Dementia Adventure's alternative to traditional respite care allows families to have a break and enjoy time outdoors together, with our trained staff and volunteers providing essential support.
In a summer of uncertainty, Dementia Adventure safely delivered 24 UK supported adventure breaks, with 78 Covid-safe places. 24 new Outdoor Experiences provided another 69 supported opportunities to enjoy a local day out.
4 Carers UK (2020) Unseen and Undervalued.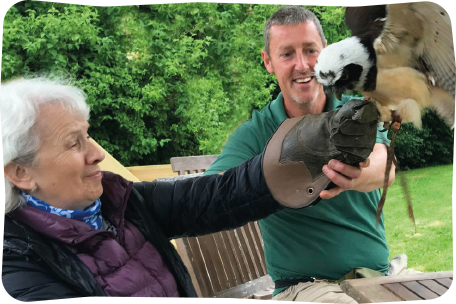 88%
had a break from caring that they wouldn't otherwise have had.
78%
felt better able to cope in their caring role
97%
enjoyed getting outdoors and connecting with nature
People living with dementia
100%
felt safe on the holiday
100%
enjoyed getting outdoors and connecting with nature
88%
talked to more people than usual
81%
got more exercise than usual
69%
had better appetite than usual
56%
said their relationship with their companion had improved
Empowering others – our Training & Consultancy
Our holidays give Dementia Adventure lived experience directly supporting people with dementia. This perspective, and the voices of those living with dementia, is embedded into our unique training offer for friends, family, volunteers, staff and organisations. In total, we trained 2,516 people in 2021.
The move online has significantly increased Dementia Adventure's reach. Carers attend while performing their caring role and it's empowering to see siblings in separate countries making joint care decisions in the chatroom. However, in-person delivery brings a closer connection and Dementia Adventure is looking forward to continuing a hybrid approach in the future.
Building confidence in family and friends
Our introductory training session Understanding Dementia Better5 helps carers build positivity and confidence. They receive practical solutions that lead to improved wellbeing.
left with an increased understanding of how to support someone with dementia
would recommend the training
felt better equipped to cope with their situation
were more confident about ways to engage with nature and the outdoors
had previously received minimal or no contact with a support service
As restrictions eased, people needed confidence to get back outside so we developed new Nature is Calling sessions. And with the pandemic taking its toll, Mood & Motivation covered how to raise mood, build confidence and plan meaningful activities.
One of Dementia Adventure's priorities is to be more inclusive. We made some progress in 2021:
12% of training attendees were from an ethnic minority, and 10% had a disability.
5 Formerly named 'Thinking Differently about Dementia'.
Read our full Impact Report for 2021 for more stats, case studies and reports.