Finance doesn't have to be a barrier to you getting the break you need. With the right support, anything is possible.
We're hearing from many families and carers that they need a break, now more than ever. It's clear that our holidays are more than a luxury—they're a necessity.
A Dementia Adventure holiday is a chance to have some essential time off from your usual responsibilities – time to relax, regain your energy, and bond with your loved one so that you can return to your life together feeling happy in one another's company and positive about the future.
But we know affording a holiday isn't always easy.
Keep reading for information on how we can help you fund your holiday.
Dementia Adventure Holiday Prices
After making your payment (including your deposit), there will be no more additional charges. The price you pay includes accommodation; food; transport; activities; around-the-clock support for the length of your trip; and all the organisation and planning in the run-up!
Behind every holiday there is a crew of people hard at work to ensure your trip goes off smoothly and safely. From scouting and booking locations to the nitty-gritty of meal plans and health-and-safety checks, every step of your itinerary has been researched, every detail reviewed by a Dementia Adventure staff member.
Dementia Adventure is not a normal holiday provider, so our prices aren't just about the literal cost of accommodation and food. A huge part of our value lies in the detailed organisation we put into each of our holidays, and the time it takes to understand how we can best support you. This all needs to be taken into account when we look at how much a holiday costs us to run.
Lowering the Cost of Our Holidays
This year, we're responding to the cost of living crisis by subsidising our holidays by a minimum of 30%. These subsidised prices are the ones you'll see when you check the listed price for our group holiday destinations, and are made possible using the donations we receive from our supporters.
As a charity, we also offer our holidays on a not-for-profit basis. The price you pay does not include any of the charity overheads or running costs; we meet those with the help of our funders. This enables us to reduce the price of all our supported holidays and make them more affordable than they otherwise would be.
We aim to deliver our breaks to as many people who need them as possible, regardless of their financial situation. But if our subsidised prices are still out of reach for you, we might be able to offer you further financial help, support you with finding additional funding, or both.
Helping You Find Additional Funding
There are many grants and charitable funds available providing financial assistance for people who need it, from local trusts to benevolent funds. We can help point you in the right direction when searching for funding you might be eligible for, as well as supporting you with any applications you decide to make toward the cost of your holiday.
Our practical Guide to Financial Assistance contains some starting points for your search and lists various organisations that you could consider making funding applications to. However, please do contact us if you'd like to speak to someone about this—we'll do our best to help.
The Dementia Adventure Support Fund
In some cases, we may be able to offer you financial support towards your holiday using the Dementia Adventure Support Fund.
This could be a contribution towards the cost of the holiday itself, or it could be towards anything that is creating a barrier to you taking your holiday—like the cost of transport, clothing, or personal care. In order to be considered, you or the person you are caring for must have a formal dementia diagnosis, live in the UK, and be unable to pay the listed prices on our website.
Below is a list of some of the things we might consider when reviewing your eligibility for the Fund:
We will always consider everyone on an individual basis, so don't be put off if you think you have a reason for receiving funding from the Support Fund that isn't represented in this list—get in touch and we will do our best to help you.
If you are eligible for funding, we will ask that you allow us to use your holiday story in order to give others an idea of the impact that a Dementia Adventure holiday can have.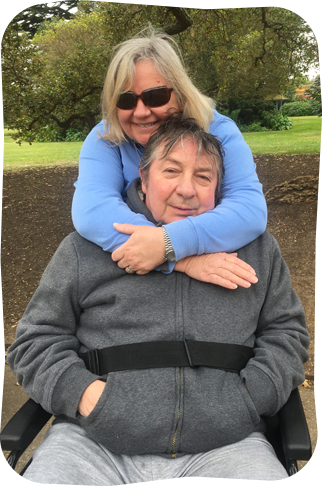 Our ability to provide financial assistance from the Dementia Adventure Support Fund is made possible by funding from individuals, businesses, and grant funders, including the players of People's Postcode Lottery. We give our heartfelt thanks to all those who help us give people living with dementia and their carers the crucial break they need.
Thank you also to those who, when able, pay the prices of the holidays listed. You are helping make a holiday possible for someone who may not otherwise be able to afford it.
More than a break – a change of mindset
Esther, her wife Angela, and their two children aged 5 and 9 went to the Isle of Wight for a week's supported holiday, with financial assistance from the Dementia Adventure Support Fund.
Angela was diagnosed with Alzheimer's in the frontal and temporal lobes in 2018; this variant of Alzheimer's is characterised by disruption of the executive function, affecting judgement, understanding, and memory, as well as causing changes in behaviour. Angela's wife Esther, whom she's been with for 22 years, struggled with the way Angela's personality changes affected their life together; Esther realised she couldn't rely on Angela to supervise the children, and Angela's relationship with her son became strained. With a daughter with low vision and both their children being neurodivergent—her son has been diagnosed with ADHD—Esther's attention was in constant demand.
On top of that, because Angela remains physically well and fit, friends and family often didn't understand the level of support she now needed, and wondered why Esther was being what they saw as 'paranoid' and 'over-controlling'.
Since Angela's diagnosis, taking a family holiday together had been rendered logistically and financially impossible. The family needed a break—but couldn't afford the care that would be required on top of the price of the holiday itself. So when Dementia Adventure were recommended to Esther by a former colleague, she eagerly got in touch.
When she got off her first call with Dementia Adventure, Esther cried. 
Anxious in the run-up to the holiday, the moment Esther met Adventure Leader Jesse and Volunteer Tessa she knew everything would be alright. Their stay on a farm on the Isle of Wight prompted Angela to share memories of her own childhood with the children, and all their time spent outdoors really lifted her mood. The team's warmth and expertise meant that they felt "like a 'real' family, doing normal things that families do". And with the Dementia Adventure team taking care of everything, Esther got to be the mum and partner she wanted to be.
Since returning home, the holiday has had a lasting impact: the family's mindset has changed. "We feel less trapped now," Esther says. "Our relationship with the children is better because we aren't so stressed about everything." Because they get out and do things more often the children are not only better at coping when Angela Mummy has had enough, but understanding why she's had enough. Angela's relationship with herself has improved, too – she's rediscovered her self-value, both as an individual and an important and beloved member of the family.
Are You Someone Who Can Help?
We at Dementia Adventure are passionate about making it possible for people living with dementia and their loved ones to go on much-needed holidays. If you or your business can help, please contact us—we would love to hear from you.