Have a holiday with Dementia Adventure
Have a holiday with Dementia Adventure
Holidays shouldn't stop just because of a dementia diagnosis.
We believe that with the right support—whether practical, emotional, or financial—anything is possible, which is why we offer small-group holidays and individually-tailored breaks for people living with dementia and the people who care for them, enabling you to get away together and enjoy some time off.
Families and carers are telling us they need a break now more than ever, so we know our holidays are more than a luxury. They're a chance to have some essential time off from your usual responsibilities—time to relax, regain your energy, and bond with your loved one so that you can return to your life together feeling happy in one another's company and positive about the future.
Evidence shows our supported holidays have significant wellbeing benefits for both the person living with dementia and their companions, including:
A Typical Dementia Adventure Supported Holiday
People living with or caring for someone with dementia can often feel that things like holidays and travel are no longer available to them, but we specialise in creating charming, fun-filled small-group holidays for people living with dementia and their partners, family, friends, or carers to enjoy together.
An experienced Adventure Leader will join you on your holiday to take care of all the practical day-to-day details, along with a skilled team of supporters – one for every person living with dementia.
The Dementia Adventure holiday teams are friendly, positive, and hands-on. Experienced staff and fully-trained volunteers, we're there with you because we want to be; we love what we do, and we want you to love your holiday!
We are:
We've offered supported holidays for people with dementia for well over a decade. We understand the complex and individual needs of people living with dementia, as well as how carers can benefit from having the chance to relax and enjoy time with their loved one while we take care of all the planning and background tasks. Whether you're looking for an alternative to respite in which everyone gets a rest, or an opportunity to have an adventure together, we'll support you to have the holiday you deserve.
The holiday planning is all done for you, or with you, from accommodation and travel to activities and meals. Our expertly-planned itineraries ensure there's plenty to enjoy, whether you want to relax by the coast, walk in the mountains, or explore historic sites.
Our experienced and fully-trained team will be on hand 24 hours a day to do all the cooking and driving, assist at mealtimes, and accompany you on days out. We are an extra pair of hands, eyes, and ears so you can relax and benefit from the break. We'll be sensitive to your individual needs, encouraging independence and meaningful activity where possible, and providing as little or as much support as you require.
Our focus is on what you can achieve rather than what you can't. We'll be encouraging you to have fun and to engage with the wellbeing benefits of being outdoors.
We offer:
The Price of Your Holiday
As a charity we fundraise to make our holidays more affordable for everyone. This year, we're responding to the current cost of living crisis by subsidising our 2023 holidays by a minimum of 30%.
Depending on the location, a typical five-day holiday is currently between £1,000 to £1,350 per person. After making your payment (including your deposit), there will be no more additional charges. The price you pay includes accommodation; food; transport; activities; around-the-clock support for the length of your trip; and all the organisation in the run-up! Behind every holiday there is a crew of people hard at work to ensure your trip goes off smoothly and safely, from scouting and booking locations to the nitty-gritty of meal plans and health-and-safety checks.
By running our holidays on a not-for-profit basis, working with fully-trained volunteers, and using donations and funding from our supporters to cover at least 30% of the holiday cost, we aim to give a break to as many people who need one as possible—regardless of their financial situation.
Unless there are breakages or damage, we will not bill any additional expenses.
Dementia Adventure is a member of the Travel Trust Association. This means that your payment will be placed in a trust account and protected by the TTA's Guarantee, ensuring that your money is kept safe and secure in the lead-up to your holiday.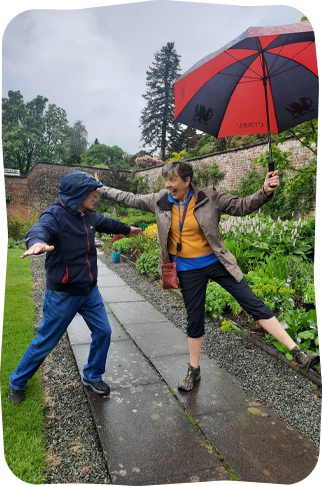 Our holidays are available to people from all walks of life. We know that funding your holiday can sometimes be difficult. Because we don't want finance to be a barrier to you getting the break you need, this year we're subsidising our holidays by a minimum of 30%
These subsidised prices are the ones you'll see when you check the listed price for each destination, and are made possible using the donations we receive from our supporters.
However, if the price of our holidays is still out of reach we might be able to offer you further financial help, support you with finding additional funding, or both. Find out more here, or contact us if you're still feeling unsure. We will help to make your holiday possible.
What we offer:
For those who can afford to pay the listed price, you have the option to make a further donation. Your donation will help us to support those who cannot afford a holiday to get away. If you would like to make a holiday donation, please contact us.
Our small-group supported holidays are always popular and sell out fast! Enjoy five days of fun and relaxation, with other people who are living through similar experiences to you. We take care of the details so you can get the most out of our hand-picked accommodation in a variety of beautiful destinations across the UK.
Any time, anywhere! We'll plan a holiday specific to your requirements, abilities, and preferred destinations throughout the UK. Our tailored holidays are ideal for friends, couples, or families who want to travel together.
We want you to have fun on your holiday, but your safety is our top priority.

We understand that there are many for whom COVID-19 is still a concern. Rest assured that we'll keep up-to-date with the latest government guidance and follow any new COVID-19 procedures put in place. In the meantime, we are continuing with sanitisation and cleaning precautions. Every member of our face-to-face delivery team is fully vaccinated and we ask the same of all holidaymakers.
For more information, please read our COVID-19 Statement.
We strongly recommend that you take out travel insurance for your supported holiday.
Though we don't recommend specific providers, if you need advice we do suggest taking a look at website MoneyHelper, which contains an excellent free guide on how to get travel insurance when you have a pre-existing medical condition or disability. Please don't forget to read our Terms and Conditions, which include our cancellation policy.
Research shows that our supported holidays significantly improve physical and mental wellbeing for both the person with dementia and their caregiver. Yet finding a holiday that can meet individual support needs at an affordable price can be challenging.
We want to help people from all backgrounds who are living with dementia to access a holiday, by offering affordable prices and additional funding.
As a charity, we depend on the generosity of fundraisers, trusts, grants, and businesses. If you or your business would like to make a holiday possible for people living with dementia and their families, please  contact us.
Contact Dementia Adventure