Have a holiday with Dementia Adventure
Have a holiday with Dementia Adventure
Holidays shouldn't stop just because of a dementia diagnosis
We believe with the right support anything is possible, which is why we offer small-group and tailored holidays for people living with dementia, enabling them to get away with their friends and family.
Evidence shows our supported holidays have significant well-being benefits for both the person living with dementia and their companions, including:
A Typical Dementia Adventure Supported Holiday
People living with dementia can often feel that things like holidays and travel are no longer available to them, but we specialise in creating small group holidays for people living with dementia, their partners, family, friends or carer to enjoy together.
Making Your Holiday Possible
We've offered supported dementia holidays for well over a decade. We understand the complex and individual needs of people living with dementia. Whether you're looking for an alternative to respite—where everyone gets a rest, or an opportunity to have an adventure with your loved ones, we'll support you to have the holiday you deserve.
Our holidays are available to people from all walks of life. To make them affordable, our listed prices have been subsidised by 25%. We don't want finance to be a barrier to you getting the holiday you need. If the subsidised price of the holiday is out of reach, please contact us. We will help to make your holiday possible.
The holiday planning is all done for you, or with you, from accommodation, to travel, days out and meals. Our experienced and fully trained team will be on hand 24/7 and our well planned itineraries ensure there's plenty to enjoy, whether you want to relax by the coast, walk in the mountains or explore historic sites.
Our focus is on what you can achieve rather than what you can't. We'll be encouraging you to have fun and to engage with the wellbeing benefits of being outdoors.
We offer:
An experienced Adventure Leader will join you on the holiday to take care of all the day to day practical details, along with at least one supporter for every person living with dementia.
We'll be with you 24 hours a day, able to do all the cooking and driving, assisting at mealtimes, and accompanying you on days out. We are an extra pair of hands, eyes and ears so you can relax and benefit from the break. We'll be sensitive to your individual needs, encouraging independence and meaningful activity where possible, and providing as little or as much support as you require.
We are:
Our small group supported holidays are always popular and sell out fast! Enjoy five days* of fun and relaxation, with people in a similar situation to you. We take care of the details so you can get the most out of our hand-picked accommodation in a variety of beautiful destinations across the UK.
*In 2022 we are offering shorter weekend breaks in the Peak District and the Isle of Wight (subject to availability).
Any time, any place, anywhere! We'll plan a holiday specific to your requirements, abilities, and preferred destinations throughout the UK. Our tailored holidays are ideal for friends, couples or families who want to travel together.
We want you to have fun on your holiday, but your safety is our top priority. We will follow any new Government guidance and COVID-19 procedures.
We strongly recommend that you take out travel insurance for your supported holiday. We do not recommend specific providers and suggest that people do their own research.
The price of your holiday
As a charity we fundraise to make our holidays more affordable for everyone. On average we subsidise every holiday place by 25%.
The advertised price covers your entire holiday, including 24/7 support, food and activities. Unless there are breakages or damage, we will not bill any additional expenses. Depending on the location a typical five day holiday is currently between £850 to £1,300 per person.
We know that getting a break is essential for people living with dementia and their families. And we know that funding your holiday can sometimes be difficult. We don't want finance to be a barrier to you getting the holiday you need. If the price of the holiday is too high for you, please contact us, to speak to us in complete confidence. We are waiting to hear from you to help make your holiday possible.
For those who can afford to pay the listed price, you have the option to make a further donation. Your donation will help us to support those who cannot afford a holiday to get away. If you would like to make a holiday donation, please contact us.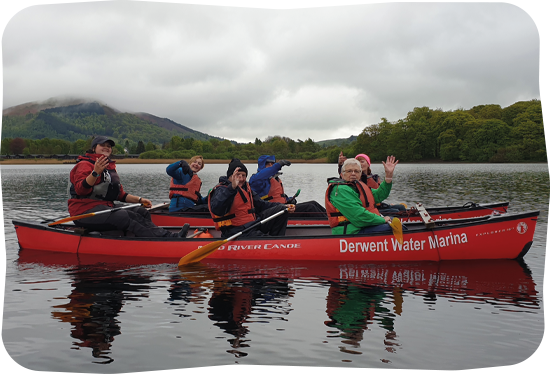 Research shows that our supported holidays significantly improve physical and mental well-being for both the person with dementia and their care-giver. Yet finding a holiday that can meet individual support needs at an affordable price can be challenging.
We want to help people with dementia, from all backgrounds, to access a holiday, by offering affordable prices, and additional funding.
As a charity, we depend on the generosity of fundraisers, trusts, grants and businesses. If you or your business would like to make a holiday possible for people living with dementia and their families, please contact us.
Contact Dementia Adventure