Have the holiday you want with Dementia Adventure
Holidays shouldn't stop just because of a dementia diagnosis. We believe that with the right support, anything is possible. That's why we offer tailored holidays for friends and family who want to go away together.
We will work closely with you to plan the holiday you hope for. Whether you're dreaming of beaches, mountains, countryside, or historic towns and villages, we can support you to make it happen, any time, anywhere!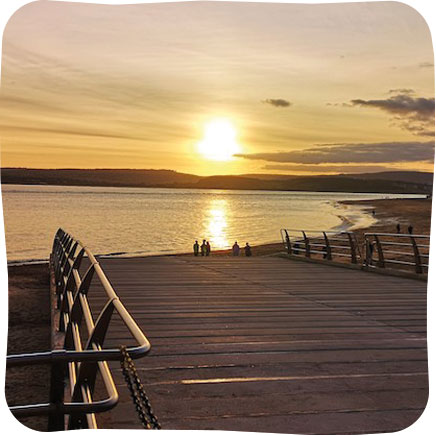 We've offered supported dementia holidays for well over a decade. We understand the complex and individual needs of people living with dementia, as well as how carers can benefit from having the chance to relax and enjoy time with their loved one while we take care of all the planning and background tasks. Whether you're looking for an alternative to respite in which everyone gets a rest, or an opportunity to have an adventure together, we'll support you to have the holiday you deserve.
The holiday planning is all done for you, or with you, from accommodation and travel to activities and meals. Our experienced and fully-trained team will be on hand 24 hours a day and our expertly-planned itineraries ensure there's plenty to enjoy, whether you want to relax by the coast, walk in the mountains, or explore historic sites.
Durations of stay are very flexible, from long weekends to more substantial holiday breaks. Previous trips that we've arranged include a canal boat holiday for a father and son, a family getaway for a couple and their two young children, and a white water rafting adventure for two good friends in Scotland!
Our focus is on what you can achieve rather than what you can't. We'll be supporting you to have fun, get some rest, and of course access the wellbeing benefits of connecting to nature and the outdoors.
Please note that we are a small charity, so although we will do our very best to accommodate you, our ability to provide support for your chosen dates and destinations will be subject to the availability of our team.
Once you've gotten in touch, we'll begin with a detailed pre-holiday consultation that will enable us to design a break specifically around your needs, interests, and preferred destination.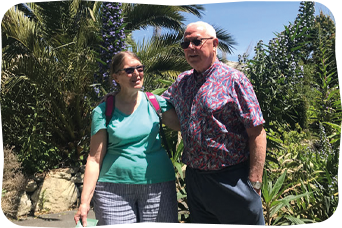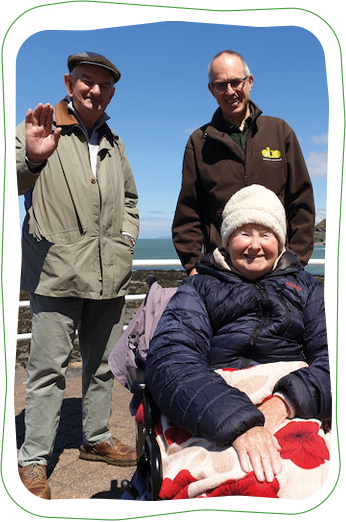 An experienced Adventure Leader will join you on the holiday to take care of all the practical day-to-day details, along with at least one supporter for every person living with dementia.
Our experienced and fully-trained team will be on hand 24 hours a day to do all the cooking and driving, assist at mealtimes, and accompany you on days out. We are an extra pair of hands, eyes, and ears so you can relax and benefit from the break. We'll be sensitive to your individual needs, encouraging independence and meaningful activity where possible, and providing as little or as much support as you require.
The Dementia Adventure holiday teams are friendly, positive, and hands-on. Experienced staff and fully-trained volunteers, we're there with you because we want to be; we love what we do, and we want you to love your holiday!
We are:
Activities and days out will be tailored to your interests! Depending on the destination you could be seal watching, sailing, visiting a farm, or walking through the glorious scenery of a nature reserve. We focus our activities on those that enable you to access all the wellbeing benefits of connecting to nature and the outdoors.
We'll tailor meals to your preferences, with a delicious menu of food prepared by our team at 'home' in your accommodation as well as picnics and pub lunches on our days out. We can also include takeaways and meals out at cafés and restaurants—the choice is yours.
The price will vary depending on what you decide to build into your tailored holiday. We tend to include most of the below as standard, but these can be tweaked and customised to suit your needs:
We want you to have fun on your holiday, but your safety is our top priority. 
We understand that there are many for whom COVID-19 is still a concern. Rest assured that we'll keep up-to-date with the latest government guidance and follow any new COVID-19 procedures put in place. In the meantime, we are continuing with sanitisation and cleaning precautions. Every member of our face-to-face delivery team is fully vaccinated and we ask the same of all holidaymakers.
For more information, please read our COVID-19 Statement.

During your stay you will be transported to all your day trips and activities in our Dementia Adventure minibus.
If you require assistance to travel to and from your holiday, this can also be arranged.
We strongly recommend that you take out travel insurance for your supported holiday.
Though we don't recommend specific providers, if you need advice we do suggest taking a look at website MoneyHelper, which contains an excellent free guide on how to get travel insurance when you have a pre-existing medical condition or disability. Please don't forget to read our Terms and Conditions, which include our cancellation policy.
The Price of Your Holiday
As a charity, we aim to give a break to as many people who need one – regardless of their financial situation. We work with fully-trained volunteers, and use donations and funding from our supporters to subsidise the cost of our holidays.
We do not include our overheads in your holiday cost, so the price you pay is nothing more than what it costs us to deliver your holiday. This includes:
Dementia Adventure is a member of the Travel Trust Association. This means that your payment will be placed in a trust account and protected by the TTA's Guarantee, ensuring that your money is kept safe and secure in the lead-up to your holiday.
Our holidays are available to people from all walks of life. We know that funding your holiday can sometimes be difficult, which is why we subsidise the cost of ours. However, if you think the price of a tailored holiday is still going to be out of reach, we might be able to offer you further financial help, support you with finding additional funding, or both. Find out more here, or contact us if you're still feeling unsure. We will help to make your holiday possible.
Please contact us to discuss your holiday requirements as far in advance as possible.
The cost of a tailored break will vary.
A much needed break in the picturesque Peaks
Gill Taylor was a carer for husband John, who had dementia. For Gill it was a full-time role, as John needed support in every aspect of daily life. Lockdown made their usual respite arrangements impossible, leaving them desperate for both a break and some support.
We took care of all the planning and took John and Gill to the stunning surrounds of the Peak District. The sun was shining as we took in the magnificent Chatsworth House, walked deep into Speedwell Cavern, and enjoyed the sights of the Longshaw Estate. Of course, we made sure to indulge in a proper Bakewell pudding, in the beautifully quaint town of Bakewell.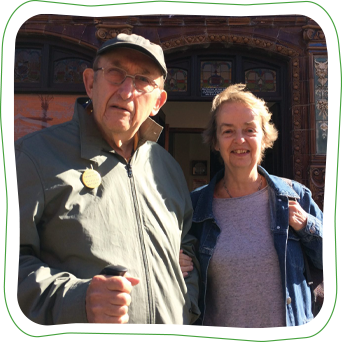 After the break both John and Gill noticed improvements in their mood, and John's ability to interact with others and be more active significantly increased.
The UK is host to some of the most stunning scenery in the world! From wild moorland to rugged mountains, crisp beaches, and wide open skies, there's something for everyone.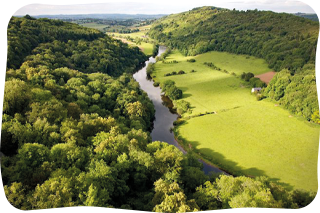 Deep valleys, historic towns and ancient castles.
Views on every corner; quaint villages and caverns to explore.
Stunning coastline, intriguing history and heritage sites galore!