Life can get really gritty around this time of the year. Christmas bills come tumbling in, the weather can be miserable and — this year in particular — the news is all about doom and gloom.
"We're not going to hell in a handcart," said one of my ancient chums recently. "But only because there's a strike at the handcart factory."
At such times, you have to seek solace. A ray of sunshine, a hint, a promise, an indication that grim times won't last, that spring will come and, with it, the opportunity to get away, recharge the batteries, and refresh the soul.
For as long as I can remember, the prospect of a short holiday at the start of the year has seen me through winter's gloom. It is as good for the soul as it is for the body.
For some the goal is Caribbean sunshine, or maybe a cruise in exotic waters. I'm more than satisfied with a destination closer to home, so I want to write, this month, about the Cotswolds.
The Cotswolds could exist nowhere but in England, and in particular that tranquil heart of England that has inspired so many writers and artists. It is Tolkien's 'Shire', his 'Middle Earth'. It is the landscape of Masefield's 'Box of Delights'. It is England in a nutshell — socially and historically.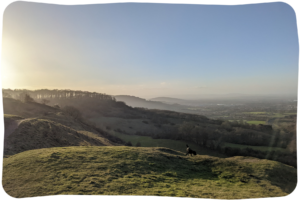 I'm a Cotswold enthusiast because it is the territory of my youth. A place that existed for me long before the "Chipping Norton Set" invaded and tried to put a trendy label on its landscape.
Centuries before them, the wealth of Medieval England was to be found here. The wealth of wool that flowed in flocks through the wide main streets of its villages, and whose importance is reflected in the England of today.
Some of the world's finest medieval stained glass is to be found in Cotswold village churches — paid for by rich wool merchants who thought the gesture would buy them a place in heaven.
The unmarried daughters of those merchants, and yeoman farmers, stayed at home spinning wool. The spindle they used was called a distaff, so to this day the female branch of a family is its 'distaff' side. This is also where that old term for an unmarried woman, 'spinster', comes from.
Houses of golden stone fit so perfectly in those Cotswold villages that you could be forgiven for thinking they'd grown there, rather than having been built. Their pubs have been sanctuaries for locals and visitors for centuries. Their hotels can stand comparison with the best.
My favourite is the Lygon Arms in Broadway. It has the most romantic bedroom in Britain — an oak-panelled gem in which King Charles slept (Cromwell, too, though not at the same time!). A discreet door in one corner leads to a narrow stone staircase which spirals down to emerge beside the huge fireplace in one of the hotel's lounges.
A natural amphitheatre close to the village of Chipping Campden was the site chosen by Robert Dover for the "Cotswold Olympicks" in 1612.
Centuries before Pierre de Coubertin claimed credit for reviving the Olympics, the Cotswold games were an annual event — incorporating swordsmanship, horse riding, foot races, dancing, and the splendid local sport of shin-kicking.
Historian G.M. Trevelyan said Chipping Campden had the finest high street in the whole of Britain. But you may find picturesque streets in many other villages whose names alone are worth savouring. Bourton-on-the-Water, Stow-on-the-Wold, Hidcote Boyce, and Hidcote Bartrim are among my favourites.
There are many good reasons for spending time in the Cotswolds — the beauty of the landscape, the charm of the villages, and a heritage of hospitality that has had a few centuries to bed down. And, of course, the region's splendid history.
There are legends, too. And here's the most amazing.
The Gloucestershire village of Bisley lies a few miles west of Stroud. There, in 1543 or 1544, a young Princess Elizabeth was staying, having been sent by her father, Henry VIII, to escape an outbreak of plague in London. According to the legend, a few days before Henry was due to visit, the princess died of diphtheria.
Her governess and the villagers, fearing Henry's fury, tried to find a girl of the same age as a replacement. None was available, so in a panic, they replaced her with a young boy.
There was no way the deception could be reversed, so Elizabeth I — England's "Virgin Queen" — was, in fact, a man.
Now I have grave doubts as to whether that is true. But if you want to check it out for yourself you have yet another reason for visiting the Cotswolds — the true heart of England.
---
We in the UK are so lucky that the countries we call home are filled with some of the most beautiful natural beauty in the world. And this is something that our Dementia Adventure supported holidays take full advantage of! If John's memories of the Cotswolds have you dreaming about your own charm-filled holiday in the British countryside, take a look at our 2023 holidays. Whether you're dreaming of beaches, mountains, countryside, or historic towns and villages, we can support you to make it happen.