Between October 2020 and April 2021, Esme, 11, used her passion for open water swimming to complete six 'dips' to support us. She wanted to raise money and awareness to help people living with dementia to access nature—a cause very close to her family's heart.
Esme says, "My Grandad has dementia and I can see that he is always much happier when he is outside in the fresh air, going for walks with us or taking photographs. I like that Dementia Adventure takes people out so they can enjoy nature and feel relaxed."
Accompanied by her equally brave brother Seth, 7, and other family members, Esme swam in some of the UK's stunning natural waters, including Lakes Derwentwater and Ullswater, and a gorge up in the Pennines. During their final dip off the Isle of Bute, a herd of seals greeted them! What an incredible experience!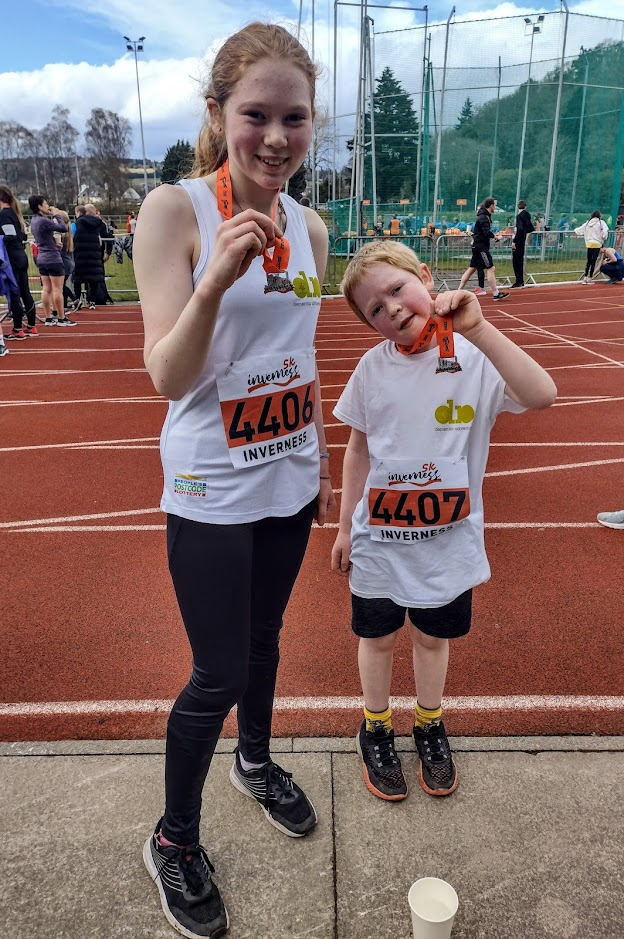 "Swimming with the seals was pretty cool! Sometimes when the water was really cold, it was quite hard to get in, but I was always glad I braved it and felt very alive and awake afterwards! Mum always had a big towel and hot chocolate ready for us! "
Inspired by his sister's achievements, Seth decided he wanted to take on his own fundraising challenge in 2022, so all the family returned and took on the Inverness 5km. The date of the event was‌ special, as it coincided with their Grandad's birthday.
Seth says, "Before [the race] I was very excited and I saw all the other runners. There was a bagpiper who took us all to the start. During the run I felt a bit tired, but I wanted to run fast for my grandad."
Between their two challenges, and with the generous support of their family and friends, Esme and Seth have raised an incredible £821 in donations to date, which is amazing! Thank you both so much!
Lee, Fundraiser at Dementia Adventure said, ""We were so excited to hear that Esme, Seth and all the family were back, taking on another challenge in 2022. Their support and the money they have raised has helped more people like their Grandad to access the benefits of nature. We cannot wait to find out what Esme and Seth's next challenge will be! But it really shows – regardless of age – we can all do our bit to support people with dementia."
---
If you would like to take on a fundraising challenge, event or activity with your family, friends or as part of a group, read more…