Have you noticed that we've got a new message for you sparkling across our digital channels? Our 'Today, I Will' campaign aims to encourage carers and people living with dementia to complete small, manageable actions that will make a positive difference to their day and the day of those around them.
What It's All About
We want a more active and fulfilled life for everyone living with dementia, which we aim to achieve by supporting people with dementia to get outdoors and experience the benefits of nature. Often a person living with dementia finds that their life changes significantly after diagnosis. They become socially isolated and at risk of being indoors too much of the time, resulting in an unnecessary decline in their physical, emotional, and social wellbeing.
We know that as someone living with dementia getting outdoors can be easier said than done, and finding time for yourself as a carer can be challenging. But achieving healthier, more nature-focused days doesn't have to involve a big lifestyle overhaul! Just one small act a day can make a world of difference to your wellbeing.
So the 'Today, I Will' campaign offers examples of small, easy actions that you can perform to make any day a little better. It encourages you to use these actions to get closer to nature, to take care of yourself, and to build relationships with the people around you. In signature Dementia Adventure fashion, it encourages you to focus on what can be done rather than what can't.
Why Now?
The last few years have been tough. The COVID-19 pandemic had a huge impact on people living with dementia and their carers, heavily restricting the social support that so many rely on and introducing an overwhelming fear of leaving the house. After such a long and all-encompassing disruption, it can be hard to get back on track, never mind to think of making new changes.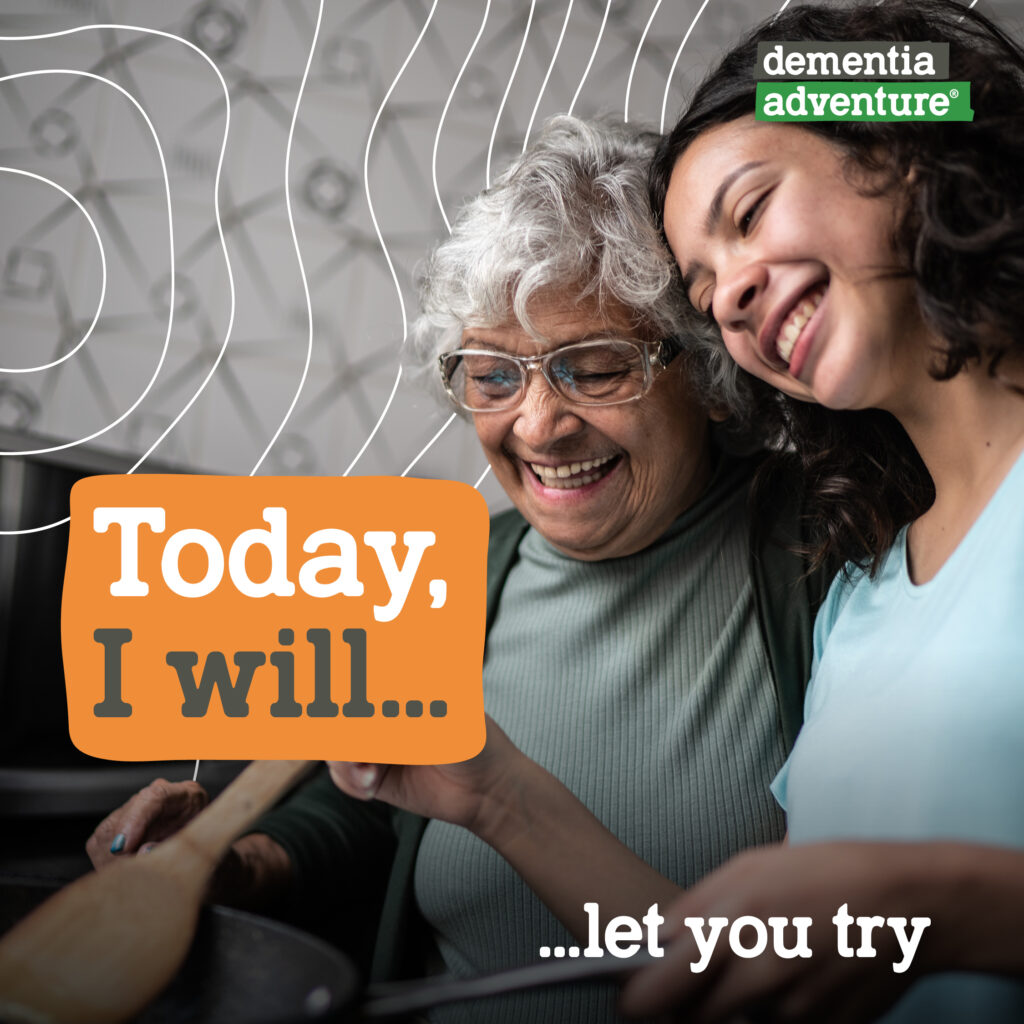 Meanwhile, the rising cost of living has hit carers harder than most. Over half the carers that responded to our summer survey told us that it has affected them in some way, with some having to make difficult decisions about food spend and energy bills. Over 70% were finding it increasingly difficult to cope with caring and were desperate for a break from their caring role.
Looking after ourselves and finding joy is most important when it feels the least possible. Now more than ever it's crucial that carers get the break they need, and that people with dementia experience connection with the world around them.
Today, I Will
People with dementia and their carers deserve rest, fulfilment, and joy. We hope the 'Today, I Will' campaign will empower people to know that it is possible to take small steps towards living a life that is fuller and happier. A step could be something as simple as having a cup of tea in your garden, spending some time at the window, or listening to birdsong audio.
What will you do today?
---
Help us spread the word! If you live with dementia, are a carer, or know someone who could find our message helpful, please share our campaign. Hit the 'Share' button. Talk to people about the tips we offer. Together, let's encourage people to say, 'Today, I Will'.