We worked with Methodist Homes Association (MHA) to develop a tailored programme of training to enable their staff to support people living with dementia and families.
MHA is a charity with over 75 years' experience of delivering care and support for older people across the UK. They currently support over 18,500 people across their care homes, live at home schemes and retirement communities, many of whom are living with dementia.
We first worked with MHA in 2017, on a three year national project supporting them to incorporate connection to nature within the care home setting. We continued our partnership by supporting several of their local projects, including the MHA Croydon Wilderness project and by providing solutions to enhance their existing dementia training for Care Home staff, Activity Coordinators, and the family members they support across the UK. They were keen to embed the message and practice of 'green care' across the organisation—looking at the benefits of connection to nature and the outdoors for people living with dementia.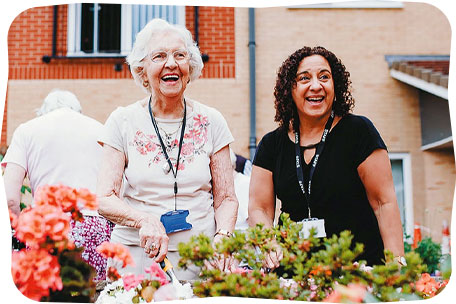 The Training
We delivered bespoke training to staff, volunteers and residents family and friends, centred around our 'Thinking Differently About Dementia' and 'Time in Nature' training. To reach as many paid staff and unpaid supporters as possible, we adopted a hybrid approach with a mix of online and face-to-face sessions.
Alongside the training, we also facilitated sessions with the Activity Coordinators, to discuss their successes and challenges in implementing the training. This was an important opportunity to really listen to their needs and offer practical solutions to people on the front line.
To support the on-going legacy of the work we produced an activity booklet with practical suggestions of how to connect and communicate with people with dementia and how to encourage engagement with nature through multi-sensory activities.
Rachel Powell, Manager of the MHA Community in Shifnal, Shropshire attended the training,
"All of the training has been brilliant! I feel so empowered. I can now help family members who come to me, who need help supporting their Dad or their Mum with dementia. I have practical tools that I can now give away to others to help make their home life just that bit easier."
She talks about the impact the training has had on the families she supports:
"I send monthly newsletters, with ideas on how to connect with nature, it might be bird spotting in your garden, or finding certain colours, or looking at patterns in snowflakes. I am getting so much more engagement now from my members Family carers are contacting me to tell me the benefits they are seeing in the people they support, like excitement at seeing a bird, or joy at discovering colour. I hear that people with dementia are more alert and talking a lot more."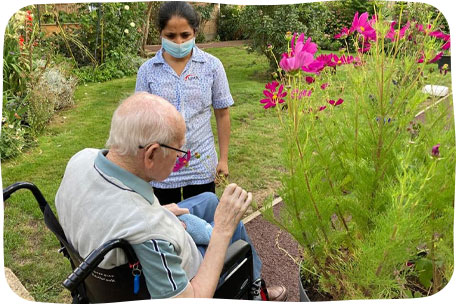 Following the training:
94% had a more positive understanding of dementia.
94% had a better understanding of the benefits of outdoor activity.
93% had a better understanding of how to communicate with someone with dementia.
90% said the training would help improve their work.
David Moore, Dementia Lead at MHA said:
"Dementia Adventure has helped MHA realise the importance of green care and nature based activities for people living with dementia, their families and our staff. Their guidance and training has enabled us to provide residents opportunities to connect with nature, something that has become so important. Dementia Adventure has also supported our homes to bring the outdoors in for those residents who are physically or emotionally unable to access outdoor space."