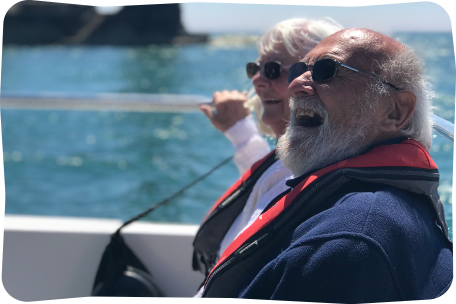 Kathy supports her Dad who lives with dementia. She lives 100 miles away from him, which left her feeling isolated and unsure of how to support him from so far away.
Kathy had growing concerns about her Dad, because, despite being physically able, he had become very unmotivated to engage with conversation or activity.
Kathy heard about the Mood and Motivation session when she attended our Understanding Dementia Better training.
"I really thought that I would just be hearing what I already knew, but that wasn't the case at all. The information wasn't the usual old stuff, I learnt a lot. The resource pack that you share at the end of the session was also really good.
"The pace was great in both the sessions I attended. I really loved seeing the films as it gave real-life examples, which really related to my situation with my Dad.
I really enjoyed the delivery style as it was very apparent that you had an in-depth understanding of dementia which gave me real confidence to take onboard what you were suggesting and it really gave me the motivation to book on to more sessions with you."
The Mood and Motivation sessions are really practical. They explore how we can raise the mood and motivation of a person living with dementia by ensuring that each day they have meaning, purpose, and build connections with nature. We also look at the mood and motivation levels of friends and family and signpost to agencies that support them when things are difficult.
"I was really finding it difficult to find anything for my dad to engage in, because he is physically able, but just so unmotivated. As I am caring from afar and it is very difficult to provide the support and motivation that he needs.
"The training recommended I speak with the Admiral Nurses, which I have now done. They have been able to arrange for a volunteer from the British Legion to come and talk with him about his time in the national service, because he really loves to talk about this. I have also spoken to the occupational therapist at the memory clinic and they are going to do some reminiscence work with him.
"The signposting that you shared helped so much as it made me see that there is support out there for both myself and my dad."
The training explores the importance of connection to nature and the outdoors for emotional and physical wellbeing.
"I thought I was already aware of the positive impact of nature for Dad. We have always loved getting outside and enjoyed going for walks and it was always obvious to see the positive effects getting outside had on him. But it was the training that made me realise what the specific benefits for dementia are.
"Thankfully, Dad loves to go out. It is when he is indoors he doesn't want to do anything and his mood is low, but hopefully the support that is going in place since I have attended this training will help with that."
Now a few months have passed since the training, Kathy has had a chance to reflect on her experience.
"The training was very accessible, and professionally delivered. It was really informative and gave me lots of food for thought and ideas to try.
"I felt much less isolated after the training. It can be so hard trying to care for someone living with dementia, and it feels very lonely at times. But to see and hear from others in the same situation really helped me feel less isolated and gave me the inspiration to keep going."
Mood and Motivation is a free online training session for family and friends supporting someone with dementia. The sessions are really practical, looking at why mood gets low, how to raise mood, both for the person with dementia and their family members. The training aims to build confidence to take part in meaningful activities.
The training has been developed around our mission to think differently about dementia. Our focus is on the individual and not the condition, looking at what they can do, not what they can't. And helping families to see that with the right support, people with dementia can continue to do the things they love and keep active.
Our expert training team will offer you small and easy steps that can make a big difference.
The 1.5-hour sessions are informal, and a great opportunity to meet and learn from other people in similar situations to you.
We actively encourage questions, which you can ask during the session or send to us before-hand.