Bradgate Park is a very popular public park close to the city of Leicester in the East Midlands.
It covers 850 acres and has special protection status for its ancient trees, geology and wildlife. It's a particularly special area because of its historic links with Tudor history.
Although the park has good public access and facilities, Bradgate Park Trust, custodians of the site, proactively seeks to improve accessibility and expand opportunities for learning and engagement. Before taking part in the Dementia Adventure training, attendees lacked confidence in how to support people living with dementia. The training provided the perfect opportunity to develop knowledge and skills in a welcoming environment, particularly for newer members of the team.
Having worked with Dementia Adventure some years previous, the Trust got in touch to discuss their needs, and it was agreed, in partnership with the National Forest Company, that we would deliver training to the park staff and volunteers to equip them to support people with dementia to enjoy sensory walks and inclusive outdoor experiences.
"The team were excited to take part in the training and develop their knowledge around sensory experiences for people living with dementia. We have a fantastic outdoor venue with lots to offer – pair this with the increasingly ageing population and it's clear to see the need for greater understanding around visitor experience for those living with dementia and their careers" – Amy – Funding and Grants Manager, Bradgate Park Trust
The Training
"Informative, inspiring, supportive."
We delivered half a day training designed to increase knowledge, skills and confidence in the park staff and volunteers, which would enable them to run either specific or inclusive activities for people living with dementia and their families.
"The training was just the right length and engaging. It was pleasing to see how everyone got involved and had something to say. You could tell they were really thinking about their role and what it means to them."
An important part of the training was learning how to make outdoor experiences more engaging and sensory, as well as planning next steps so that the Trust can make their existing programme of learning opportunities more inclusive and sustainable.
"Kath was excellent at explaining how to negotiate setting up a dementia friendly walk, including things I wouldn't have considered like terminology and paperwork, etc."
And the team left feeling more confident that they know how to interact and communicate with people with dementia and their families,
"I wouldn't have known how to work with people (with dementia) before. I feel I have the confidence to take projects forward."
Impact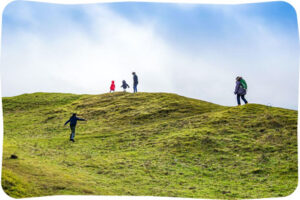 "This has definitely been a catalyst for the Trust to begin exploring dementia friendly activities at Bradgate Park" – Amy 
The training immediately inspired two park volunteers to come up with next steps. They were highly motivated and wanted to create opportunities for people with dementia to have more sensory and engaging experiences in the different outdoor programmes they run across the park.
Since the training Bradgate Park Trust have successfully applied for a grant to develop a woodland workshop – the space will provide opportunities to get creative in nature, learn about caring for the environment and soak up the wellbeing benefits of time in the great outdoors. The Trust sees this as a fantastic opportunity to embrace the calming, sensory nature of the space for the benefit of a broad range of community groups including inclusive activities that are dementia friendly.
"The Trust will look to implement accessible activities in the future and make links with local partners to guide them in achieving this."
As a Trust, they are continuing to consider how they include people with dementia at the park. They feel much more confident to reach out to local groups that provide services for people living with dementia and invite them to co-produce activities and projects.
"Dementia Adventure was the right fit. They made the process easy. It was great to have the initial (free) phone call consultation to run through everything first."