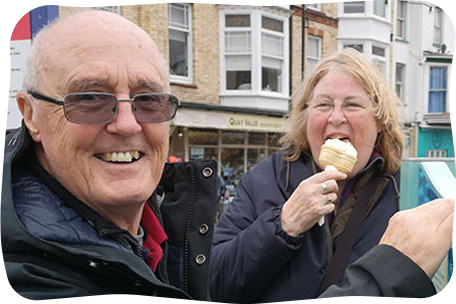 Shan Rees, 68, and her husband Geoff, 70, who has dementia, went to Devon on one of Dementia Adventure's supported breaks.
"The holiday was the best thing we ever did. The effort and planning that goes on behind the scenes is absolutely phenomenal. I really can't get over how much they did for us. I even got a cup of tea in bed!"
While on the holiday, Shan and Geoff got chatting with our team about the benefits of nature for people with dementia. Shan wanted to learn more and booked into one of our free 'Understanding Dementia Better' sessions.
'Understanding Dementia Better' is our free online training session for family and friends supporting someone with dementia. The sessions are really practical, offering hints, tips and strategies for a range of different circumstances. It has been developed around our mission to think differently about dementia, so we focus on the individual and not the condition, looking at what they can do, not what they can't. And we help families to see that with the right support, people with dementia can continue to do the things they love and keep active.
Dementia Adventure's expert Training team supported Shan to understand dementia better, during the informal two-hour online session. We offered small and easy steps that could make a big difference, actively encouraging questions, which Shan could ask during the session or send to us before-hand.
Shan found the training incredibly helpful, and a great opportunity to meet and learn from other people in similar situations to her.
"I'm much more mindful of how I approach supporting Geoff. It was lovely to hear from other people like me and realise I am not the only person in this position and struggling. It feels so lonely sometimes and to hear from others made me feel much more positive about my situation."
Partly, our training reaffirmed that a lot of what Shan was doing was the right thing, which she found very reassuring. The session also made her think about how she communicates with Geoff.
"I approach conversations with Geoff differently now. I'm much more aware that how I talk to him can make a big difference to how he responds. I used to talk over him and tell him when he got things wrong, thinking I was helping him, but I've learned to listen more and not feel the need to correct him.
I have told so many people about your training, as it made such a difference to us. I would say it is amazing and definitely worth going to. I don't always get it right, but when I know I have done it wrong or I've had a bad week, it's really helpful to refer back to the resources, take a deep breath and try again."