We took Hannah and Neil and their two daughters, aged 13 and 12, on their first supported holiday to Norfolk. Both worked as police officers, but life changed when Neil, 57, was diagnosed with young onset dementia 8 years ago. When he stopped working, Hannah, 48, had to give up work to support him at home. 
As an active family, they had always enjoyed getting away. They especially loved camping. But holidays had become increasingly difficult. Hannah says,
"It just isn't a break, and it's not that great for the girls either, because they're being kind of palmed off. I can't join in the activities with them because I'm looking after Neil, who just wanders off."
Dementia Adventure
Dementia Adventure gave a talk to Hannah's local Young People With Dementia group and, although she couldn't be there, she heard about it and got in touch with us to explain her situation. After listening to Hannah and Neil's specific circumstances, we decided that a supported holiday tailored to meet the needs of the whole family would be a great opportunity for them to get some quality time together and have some fun.
Before the holiday
Hannah's biggest concern was being able to afford a holiday for the four of them, as they live on Neil's pension. As a charity, we subsidise all our holidays, but we also support people to find additional funding for their break. A police charity awarded Neil and Hannah half the cost of the holiday, making the holiday possible.
Beside the seaside
The family chose a 7 night holiday in the traditional seaside resort of Cromer. We planned an itinerary with the family, giving them the choice of how they spent their time, but with the flexibility to fit around any unexpected changes if needed. We arranged for them to go boating on the broads, ride a steam train to Sheringham, watch the seals and enjoy the stunning, wide Norfolk beaches.
"We went down to the beach together and then when it got a bit much for Neil, Dementia Adventure took him off for a hot chocolate and then back to the bungalow, so I could spend another couple of hours on the beach with the kids."
Seeing Neil enjoy himself was a highlight of the holiday for Hannah, and she still smiles at the special moments he shared with his daughters.
"An instructor helped Neil do the zip wire, and you saw the delight in his face having done it, and then having something to chat to the girls about, a shared experience. You could just see his mood improve. It was lovely watching him and the girls doing something together."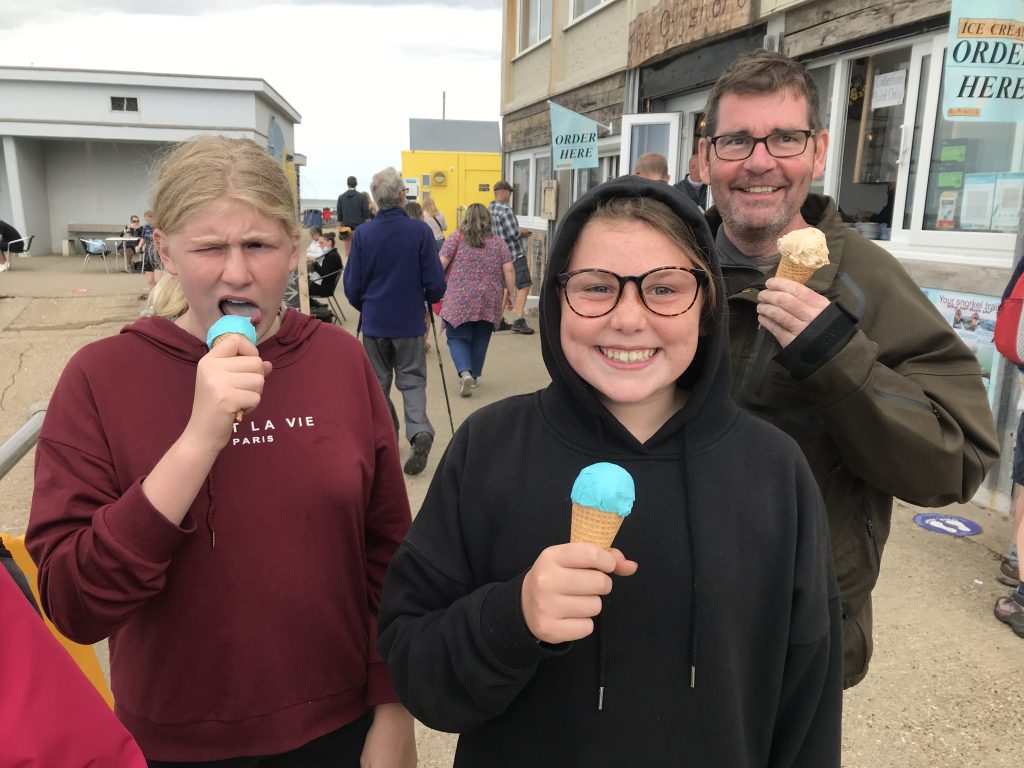 Since The Holiday
The holiday showed the family how valuable it is when Neil joins in the things they do together, and the support from Dementia Adventure has given Hannah more confidence to do it. They've gone to the cinema together and to a friend's house for pizza and Hannah can tell Neil has enjoyed being included. Finding someone to look after him or leaving him on his own is something she worries about less.
"Previous to the Dementia Adventure holiday, I would not have taken him. They kind of showed me he does still get some worth and value and it doesn't ruin it for the girls as much as I perhaps thought it did, and we still need to include him. And actually, if I kind of plan it, I can still enjoy it as well."
Memories Made
The holiday brought the family together for some very important memory-making for the girls, but it also gave them all an emotional boost, too.
"Because we have the girls, I'm very conscious that I need to 'make memories'. It's still creating a normality for them where their dad's part of their lives for as long as possible. So they get the benefit of that, which is why I do it."
And for Neil, the 'feel-good factor' of the holiday is still with him,
"The photo book is brilliant. He has really enjoyed flicking through and reminiscing. And as a conversation starter, when he's been a bit upset – that's really good too."
---
If you would like a supported dementia holiday, go here to find out more. We offer tailored or small group holidays in a range of destinations across the UK. Our holidays are available to people from all walks of life. To make them affordable, our listed prices have been subsidised by 25%. We don't want finance to be a barrier to you getting the holiday you need. If the subsidised price of the holiday is out of reach, please contact us. We will help to make your holiday possible.