Exciting news! VW Run the Ring has chosen Dementia Adventure to be its charity of the year. On Sunday September 25th, over 1,000 Volkswagens, old and new, will 'Run the Ring' – cruise around the full 117 miles of the M25 – after six months raising money and awareness for Dementia Adventure.
Amanda Culley and John Emberton, founders of Run the Ring said,
"With 850,000 people in the UK living with dementia, it sadly touches many of 'our 'Ringers' – families in the Run the Ring community. We loved that Dementia Adventure supports people living with dementia to continue having adventures outdoors; something VW owners are all about! We can't wait to raise money for this great cause."
VW Run the Ring Event
In 2021, over 1,200 VWs took part in the biggest convoy of VWs in the U,K at over 40 miles long – and raised over £60,000! Every VW who registers pays £25 for a ticket, with all proceeds going to Dementia Adventure. They receive a big car sticker to display, with many owners dressing their VW up in the charity colours on the day – this year it's all things green and adventurous! 'Ringers' also fundraise for the charity – and 'spot' each other all year by their car stickers. Stickers have been spotted in all kinds of places!
Carbon Offset
Run the Ring organisers work closely with the Highways Agency and carefully timed starts from each of the four services on the M25, plus Beaconsfield on the M40, will help safely create the convoy. They are also keen to offset the carbon footprint of the event and this year have joined forces with Plant a Tree Today to lower the environmental impact of the event.
How you can get involved?
If you're a VW owner, then why not register to take part in the cruise? It's a great, friendly bunch of people, lots of whom return year after year. They all camp together afterwards at The Gathering in Henfold Lakes, Dorking, and keep in touch all year on Facebook.
If you'd like to support the event from one of the M25 bridges, you can get flags and other merchandise, sold in aid of Dementia Adventure, here.
There's even a pack for people who have no interest in 'running the ring' but would like to support the cause – the 'I'm Not Running the Ring' pack!
"A diagnosis of dementia often leads to isolation indoors and a decline in health and wellbeing. Getting outside is crucial and can even delay the progression of dementia. We're absolutely delighted Run the Ring is raising awareness and vital funds to help people living with dementia continue to get outside and have adventures!"

Fiona Petit, CEO of Dementia Adventure.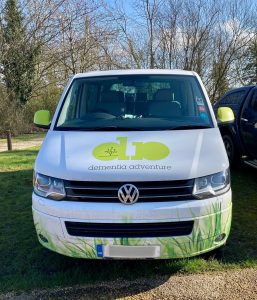 ---