There are currently around 850,000 people living with dementia in the UK. This is projected to rise to 1.6 million by 2040.
Currently there is no cure for dementia, but research shows that getting outside to connect with nature and the outdoors, can reduce symptoms and unnecessary decline in well-being
¹
.
In 2017 Dementia Adventure were awarded funding from the National Lottery to equip four national organisations with the skills and confidence they need to make activities accessible and enjoyable for people living with dementia. The 3 year project was set up to challenge the stereotypes of what people living with dementia can do, while creating opportunities that facilitate their ability to get outdoors, reduce feelings of isolation and improve their overall well-being.
The focus of the project was to train and support organisations to 'think differently about dementia' – to see the person and not the condition. In partnership with Teresa Davies, who has dementia herself, Dementia Adventure delivered a series of training sessions to delegates from the key organisations. The training demonstrated that positive risk-taking benefits everybody and opens up all kinds of fun and meaningful activities that genuinely make a difference. This encouraged the delegates to reassess the types of activities they organise and gave them the confidence to try new ideas and avoid limiting opportunities for people with dementia.
"For me the stand out training was 'Thinking Differently About Dementia', understanding that it's an individual person with dementia, there's no 'they will all be…' or 'expect it'll always be this…' everybody is unique."

"Training and the awareness and the confidence of people thinking "oh actually I could do this", and I think it's education and understanding it a bit more. "

"…the whole point is it's training, training, training so you know what you're doing, training to figure out how to manage risk, training to help you, make sure that the activities that you're gonna do are right, that you're not expecting an elderly person with dementia to stay out on your care farm for a 10-hour day or anything like that. "

"Fantastic train the trainer workshop with Dementia Adventure. Great opportunity to embed our learning and hear about TCV Dementia Adventure activities across Britain….Massive thank you to Dory for sharing her experience of living with Dementia, what an inspiration"
Now entering its final year, the project has proved to be a wonderful success. Dementia Adventure have trained over 50 employees and volunteers from the four organisations. The training has led to more than 500 dementia inclusive activities being delivered at Care Farms, conservation locations, community projects and in care homes all across the UK.
The feedback from the leaders delivering the activities and those taking part has shown the wonderful, positive impact the project is having. There are ever increasing numbers of people regularly attending the activities available, who have said it has made a difference to their lives.
"(They will arrive) maybe they have some worries, or maybe they've had a bad morning or week up to that point, then they join in and they're happy, seeing other people who will ask them how they are, they relax and enjoy it." – Gerry (Activity Leader)

"More often than not they will present here and you can see their discomfort and a bit of 'why am I here?' But then there's a tangible moment where there's this sense of ease and comfort." – Sarah (Activity Leader)

"I have a lovely time when I come. There hasn't been a time when I've come and I haven't enjoyed myself" – Steph (lives with dementia)

"You can walk around the forest and it's just open space, it's wonderful and very up-lifting." Anne (lives with dementia)

"I feel relaxed, totally" – Bernard (lives with dementia)

"I look forward to it every week." – Anne (lives with dementia)

"I pick up Bernard every week and have done for 3 months. He's always waiting for me, and he says 'I remember you, Sarah' – which is just amazing." – Sarah (Activity Leader)
The project has been led at Dementia Adventure by Project Coordinator, Paula Nelson, who has delivered training, support as well as managed stakeholder and funder relationships,
"It's been brilliant and a real privilege to be part of a journey with people, and be part of Dementia Adventure making a difference to people to get the message about being outdoors to more people."
Thanks to this project there are now more people living with dementia experiencing the benefits of getting outside than ever before.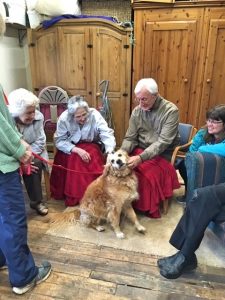 If you are living with dementia or supporting someone who is, you may wish to take part in some of the activities available around the UK.
Buckinghamshire:
Milton Keynes – Green Gym:
——————–
Cornwall:
Liskeard – Social Farm:
Gorfenna, St. Ives, Liskeard, PL14 3LX
Callington – Care Farming:
Merryhue Farm, Callington, PL177HW
Camborne & Redruth Live at Home Scheme – Various Groups & Activities:
Saltash Live at Home Scheme – Various Groups & Activities:
——————–
Gloucestershire:
Cirencester – Care Farming:
Scrubditch Farm, Cirencester, Gloucestershire, GL7 7FE
——————–
Hampshire:
Basingstoke and Deane Live at Home Scheme – Various Groups & Activities:
Eastleigh Live at Home Scheme – Various Groups & Activities:
Hart & Rushmoor Live at Home Scheme – Various Groups & Activities:
New Forest Live at Home – Various Groups & Activities:
Winchester Live at Home Scheme – Various Groups & Activities:
——————–
Kent:
Biddenden – Care Farming:
Mount Lodge Care Farm, Biddenden, Kent, TN27 8BY
——————–
London:
Richmond and Twickenham – Green Gym:
Waltham Forest – Green Gym:
——————–
North Yorkshire:
Danby – Care Farming:
Botton Social Farm, High Farm, Danby, North Yorkshire, YO21 2NJ
——————–
Scotland:
Stirling, Grangemouth and Inverness – Green Gym
——————–
Surrey:
Reigate & Redhill Live at Home Scheme – Various Groups & Activities:
——————–
Suffolk:
Lowestoft – Care Farming:
Pathways Care Farm, Suffolk, NR32 4WB
——————–
West Yorkshire:
Bradford & District Live at Home Scheme – Various Groups & Activities:
Leeds Live at Home Scheme – Various Groups & Activities
——————–
Watch this film to hear more about the benefits of the project:
If you or your organisation would like to learn more about dementia and how to 'think differently about dementia' and support people living with the condition to get outside, please visit our website, or call Vivienne on 01245 237548.
---
¹ 'Is it nice outside? – Consulting people living with dementia and carers about engaging with the natural environment' – published in March 2016 and commissioned by Natural England.