In 2019 we trained former family carer, Feleena Taylor, to lead weekly dementia-friendly walks in
Kendal, Cumbria.
Here Feelena shares the story behind the Bittern award winning "walks for all" programme and the difference it makes to those with dementia and their families.
When Feleena's mum sadly passed away after years of struggling with mental health before a final battle with dementia, Feleena was determined to share what she had discovered as a family carer with others in a similar position. Whilst she and her dad had attended various groups to help her mum, none were quite as effective as the simple pleasures of the great outdoors.
In April 2019, Feleena introduced weekly supported dementia-friendly walks around Arnside & Silverdale Area of Outstanding Natural Beauty in Cumbria, and here at Dementia Adventure we have been delighted to support her mission with our Walk and Adventure Leadership Training for her volunteers. Read Feleena's story…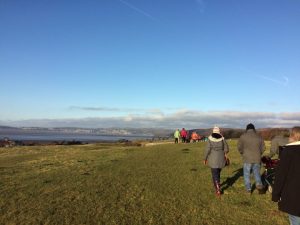 Tell us about your experience as a family carer…
My mum, Pam, was diagnosed with vascular dementia when she was 64. This followed a preceding decline in her cognitive functioning due to a relapse with her schizophrenia that was brought on by chemotherapy treatment for breast cancer. My dad had effectively been a carer for Mum from early on in their married life, but by November 2017 she required 24-hour care and my dad, who had been diagnosed with cancer, couldn't cope any longer. We placed her in respite for the first time, but very sadly she passed away after just seven days from community acquired pneumonia on 17th November.
Growing up, I realised my mum was 'different' to my friends' mums. I took on caring responsibilities and in a lot of ways the mother-daughter relationship was reversed. Her dementia diagnosis for me personally was a relief in a way as I felt saying "she was now living with dementia" had less stigma attached to it than being diagnosed with schizophrenia.
How did you cope as a family?
As a family we had built up resilience but caring for someone living with dementia can become exhausting physically and psychologically. We coped by being realistic, pragmatic and all the while using humour to protect ourselves through the emotional despair at times.
It's especially hard when there is not enough family and community support, and we need more services to help people live well with the condition.
How did you come up with the idea to introduce a local dementia-friendly walking group?
The idea was first seeded in my mind when we went to the Alzheimer's singing for the brain session. As I watched my dad sit a little uncomfortably in the singing circle, I realised these introvert tendencies were nowhere to be seen when he was out with his walking friends or with the National Trust conservation working in nature. I had also become aware of how much my mum benefited from time in the outdoors. Taking Mum out walking and just sometimes 'being' in nature, whether it was sat in the garden, on the beach or by a lake or surrounded by woodland, had been such an invaluable and easy way of living well with dementia. Her senses seemed to be subconsciously consumed by bird song, the sounds of the wind through the trees and the vista of landscape filling her vision. I definitely witnessed a dampening down of her cognitive symptoms.
In talking to people in the groups we did access, I discovered they still wanted to get out on walks, but sometimes weren't sure where to go and whether the person living with dementia could do it.
When Mum passed away, I felt huge relief and with that came a heavy feeling of guilt. However, the guilt was assuaged by the knowledge that I had helped my mum live well with dementia, not just with the physical caring aspects, but meeting her psychological needs by facilitating her attendance to community groups.
Mum had her own walking group with us as a family and I wanted to extend this to help other families and people living with dementia to experience the benefits of walking and the social support of a group.
Where do the walks take place?
We always took my mum into the Arnside & Silverdale Area of Outstanding Natural Beauty, which is on our doorstep, so that was an obvious choice for me. My dad, in the last few months of his life, was still able to suggest routes for the group. "Too long" I'd say to him, but he always came back with "they could do it". He always positively challenged my mum over the years, and they had some great adventures in the outdoors. My dad's motto was to carry on like his ageing border collie – "Only stop and drop when it becomes really bad!" he'd say.
Our groups, with the support of a fantastic number of volunteers, are managing grassland, beach, tree roots, steps and hills. We are already dividing into smaller groups for those needing routes that are buggy and wheelchair-friendly and others who wish to cover further ground in the hour.
What training and support have you received?
Before having my family, I qualified as an Occupational Therapist, so I had the health and client-centred background, but it was a long time ago, so I felt I needed more credibility before starting the dementia-friendly walks.
I discovered that an organisation existed that reflected my thoughts exactly – Dementia Adventure. I was enthused by the photos of Dementia Adventure's subsidised holidays, with people on sailing boats, in woodlands and on the Northern Fells.
Dementia Adventure's leadership training programme was a great way for me to train walk leaders. I also secured funding from a local charity called the Morecambe Bay Partnership who agreed to fund the training day, and my launch meeting with my volunteers.
My local AONB Arnside & Silverdale manager also welcomed the idea of the weekly dementia walk as it would help them meet an objective of their new management plan; to improve the health and wellbeing of residents and visitors by encouraging a connection to the AONB landscape.
After a fantastic day's training with Kath Pyke from Dementia Adventure, the first of our weekly walks took place on 23rd April and have been well attended since, averaging nine couples and 14 volunteers.
I also run a small sustainable kids' clothing brand, Brother Wolf, and part of the ethos of the brand is to connect people of all ages to nature through community projects. From the credibility I have gained through the community walks, and encouragement from Kath at Dementia Adventure, I have been able to begin a project with a local primary school too.
Do you think it is possible to live well with dementia?
When training to lead the dementia-friendly walking group, I saw a video of a person living with dementia who said he was not "suffering" with dementia because of the activities he was taking part in. While I respect his opinion, it doesn't mean it's possible for everyone not to suffer. My mum suffered with dementia – no one wants to get this condition – but the suffering was buffered by the care she received and some of the activities we took part in. The narrative to 'live well with dementia' is certainly helping people change their perspective, especially with more support available. One of the reasons I wanted to make the walks weekly is because it generates that feeling of consistent companionship – we're here if they need us and if they can't make it one week, they can aim for the next.
Would you like to join the next Dementia-friendly Walk? There's no need to book.
To find out when and where the next Dementia-friendly Walk is taking place, visit www.arnsidesilverdaleaonb.org.uk/events/dementia-friendly-walks/ or contact project leader, Feleena Taylor, on 07474588585 or the AONB Partnership on 01524761034.