Book your Dementia Adventure supported holiday for 2023 now.
Holidays shouldn't stop just because of a dementia diagnosis. In fact, right now, they're more important than ever. We know that for people living with dementia and their carers, holidays aren't just a luxury — they're a necessity. They offer time to relax, regain your energy, and bond with your loved one.
We believe that with the right support anything is possible, which is why we offer small-group holidays and individually-tailored breaks for people living with dementia and the people who care for them, enabling you to get away together and enjoy some time off.
Making Your Holiday Possible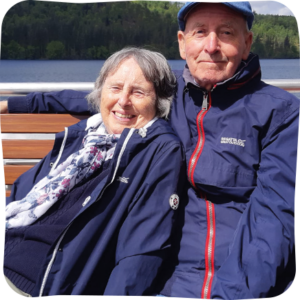 We've offered supported holidays for people with dementia for well over a decade.
We understand the complex and individual needs of people living with dementia, as well as how carers can benefit from having the chance to relax and enjoy time with their loved one while we take care of all the planning and background tasks. The holiday planning is all done for you, or with you, from accommodation and travel to activities and meals. We are an extra pair of hands, eyes, and ears so you can relax and benefit from the break.
Group Holidays
Our small group holidays are always popular and sell out fast! Enjoy five days of fun and relaxation, with other people who are living through similar experiences to you. We take care of the details so you can get the most out of our hand-picked accommodation in a variety of beautiful destinations across the UK.
Tailored Holidays
Any time, anywhere! We'll plan a holiday specific to your requirements, abilities, and preferred destinations throughout the UK. Our tailored holidays are ideal for friends, couples, or families who want to travel together. Whether you're dreaming of beaches, mountains, countryside, or historic towns and villages, we will work closely with you to plan the holiday you hope for.
Angela & Esther
Esther, her wife Angela, and their two children aged 5 and 9 went to the Isle of Wight for a week's supported holiday. Angela was diagnosed with Alzheimer's in 2018; Angela's wife Esther, whom she's been with for 22 years, struggled with the way Angela's personality changes affected their life together…