Angela and Esther's Story
Esther, her wife Angela, and their two children aged 5 and 9 went to the Isle of Wight for a week's supported holiday, with financial assistance from the Dementia Adventure Support Fund.
Angela was diagnosed with Alzheimer's in the frontal and temporal lobes in 2018, a variant of Alzheimer's that is characterised by disruption of the executive function, affecting judgement, understanding, and memory, as well as causing changes in behaviour. Angela's wife Esther, whom she's been with for 22 years, struggled with the way Angela's personality changes affected their life together; Esther realised she couldn't rely on Angela to supervise the children, and Angela's relationship with her son became strained. With a daughter with low vision and both their children being neurodivergent – their son has been diagnosed with ADHD – Esther's attention was in constant demand. On top of that, because Angela remains physically well and fit, friends and family often didn't understand the level of support she now needed, and wondered why Esther was being what they saw as 'paranoid' and 'over-controlling'.
"Angela can't understand why I stop her if she tries to take the children to do fun things. I end up feeling like a safeguarding officer. It can be very lonely and I'm permanently at the edge of what I can cope with without letting one of the plates I'm spinning fall."
Since Angela's diagnosis, taking a family holiday together had been rendered logistically and financially impossible. The family needed a break – but couldn't afford the care that would be required on top of the price of the holiday itself. So when Dementia Adventure were recommended to Esther by a former colleague, she eagerly got in touch.
"I called your Head of Adventures and she was just so positive that you could help us. She even told me Dementia Adventure could help financially. To hear that Dementia Adventure would actually do this for us just felt like the most amazing discovery."
When she got off her first call with Dementia Adventure, Esther cried.
"It was so fundamentally life-changing that this could happen. I don't know any other organisation who could have done it. What was different about Dementia Adventure was how much they listened in order to get things right and how from the very start they understood the challenges we face."
Anxious in the run-up to the holiday, the moment Esther met Adventure Leader Jesse and Volunteer Tessa she knew everything would be alright. Their stay on a farm on the Isle of Wight prompted Angela to share memories of her own childhood with the children, and all their time spent outdoors really lifted her mood. The team's warmth and expertise meant that they felt "like a 'real' family, doing normal things that families do". And with the Dementia Adventure team taking care of everything, Esther got to be the mum and partner she wanted to be.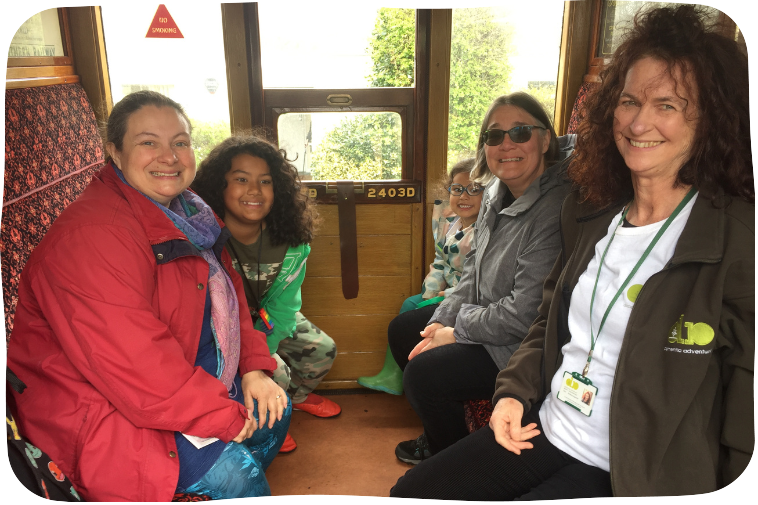 "The holiday and the support from Dementia Adventure had a huge impact on me as a carer. I didn't have to cook, or clean up, or think about what was happening next and what everyone was doing. Having someone else lift the mental load was amazing. I could stop having to be someone I don't want to be – the one standing apart, on alert, watching, and making sure nothing bad is about to happen. I got to have fun and my children got a mother who wasn't worrying."
Since returning home, the holiday has had a lasting impact: the family's mindset has changed. "We feel less trapped now," Esther says. "Our relationship with the children is better because we aren't so stressed about everything." Because they get out and do things more often the children are not only better at coping when Angela Mummy has had enough, but understanding why she's had enough. Angela's relationship with herself has improved, too – she's rediscovered her self-value, both as an individual and an important and beloved member of the family.
"The reality is that without Dementia Adventure we would never have been able to go on a family holiday. We could never have afforded the cost of care. If you need their help, just ring Dementia Adventure up and have a conversation – they will work out how to make it happen."
---
If you would like a supported dementia holiday, you can find out more here. We offer tailored or small-group holidays in a range of destinations across the UK.
Our holidays are available to people from all walks of life. In response to the cost of living crisis, this year we're subsidising our holidays by a minimum of 30%.
However, if the price of our holidays is still out of reach we might be able to offer you further financial help, support you with finding additional funding, or both. Find out more here, or contact us if you're still feeling unsure. We will help to make your holiday possible.