Andy and Sue's Story
Andy and Sue have always loved the outdoors. When Andy received his diagnosis, they were determined not to let it stop them from going on adventures.
Andy lives with Alzheimer's disease, which is caused by the build-up of the proteins amyloid and tau in the brain. It affects memory and judgement, and in later stages can affect areas of the brain that control language and sensory processing. His wife Sue cares for him.
The couple have always found outdoor activity immensely beneficial to the both of them, so they try to get outside as much as possible in their everyday life; walks and a weekly arts-and-crafts Woodland Wellness Group are staples of their routine.
"It's all an experiment to see what works," explains Sue. "Though now we're seeing things change. It's like going swimming. Wasn't a problem once upon a time, but it's becoming more of a problem now, depending on changing rooms and stuff like that."
And they were finding holidays increasingly complicated.
"It's becoming more and more difficult because we can't really go abroad, because of insurance. We could get it but you have to state that you will not leave your loved one anywhere. That doesn't work if they want to, say, go to the toilet."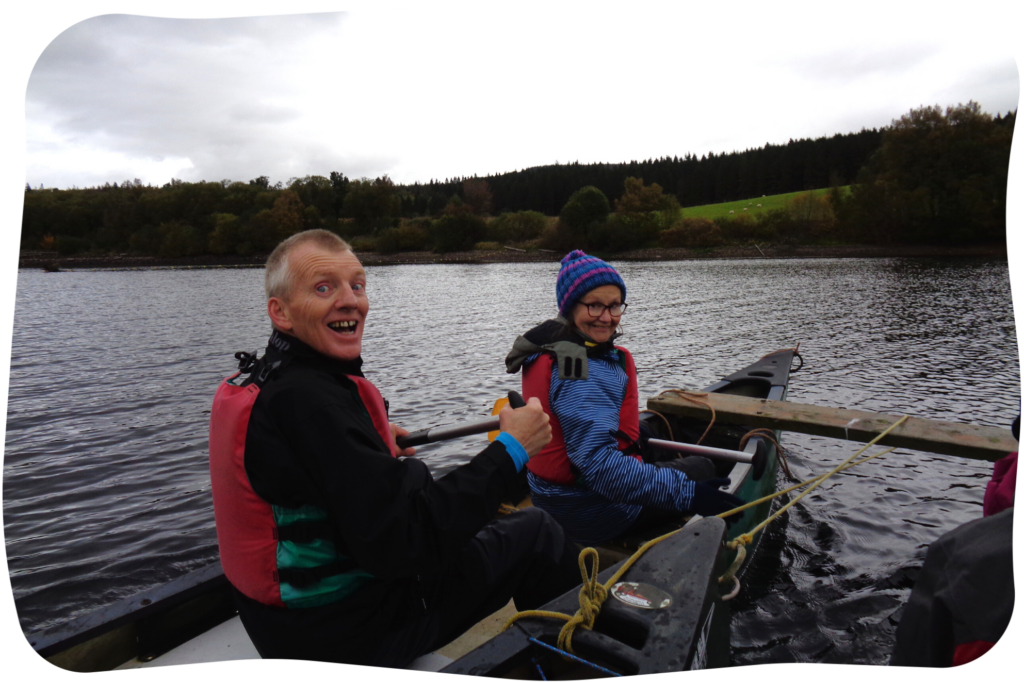 After a successful organised coach trip to the Isle of Man earlier in the year, Andy and Sue were keen to go a step further. When they heard about Dementia Adventure from the co-founder of Dignity in Dementia, they decided a trip to Kielder was just what they were looking for.
Some Dementia Adventure holidays are more active than others. Andy and Sue quickly found that booking one of our more energetic trips was the right choice for them; Sue thinks Andy is at his best when he's out and doing things.
"When we're at home together Andy tends to be quiet. He's lost communication, he sort of shuts down, but he's the life of the party when he's out. On the holiday, he was happy all the time, very chatty. It was really nice to go out on a raft canoe, because we used to have a canoe but Andy had got to the stage where he couldn't balance in it, so we haven't been able to do that for a long time."
For Sue, having the chance to completely relax was a rare delight.
"We had plenty of laughs with the other couple, the other helper, and Jill. It was just a really nice atmosphere and I felt very looked after. I benefitted from the fact that it was all organised by somebody else, because if I do it that's where my stress is involved. When it's done for you then you can actually enjoy the experience rather than fretting."
"Andy needs a full-time entertainment officer, really, he likes to be kept occupied, so having somebody else there to help when he got into difficulty meant I wasn't worrying. We do have a fraught relationship quite a lot of the time, but that fraughtness wasn't present because the load was shared."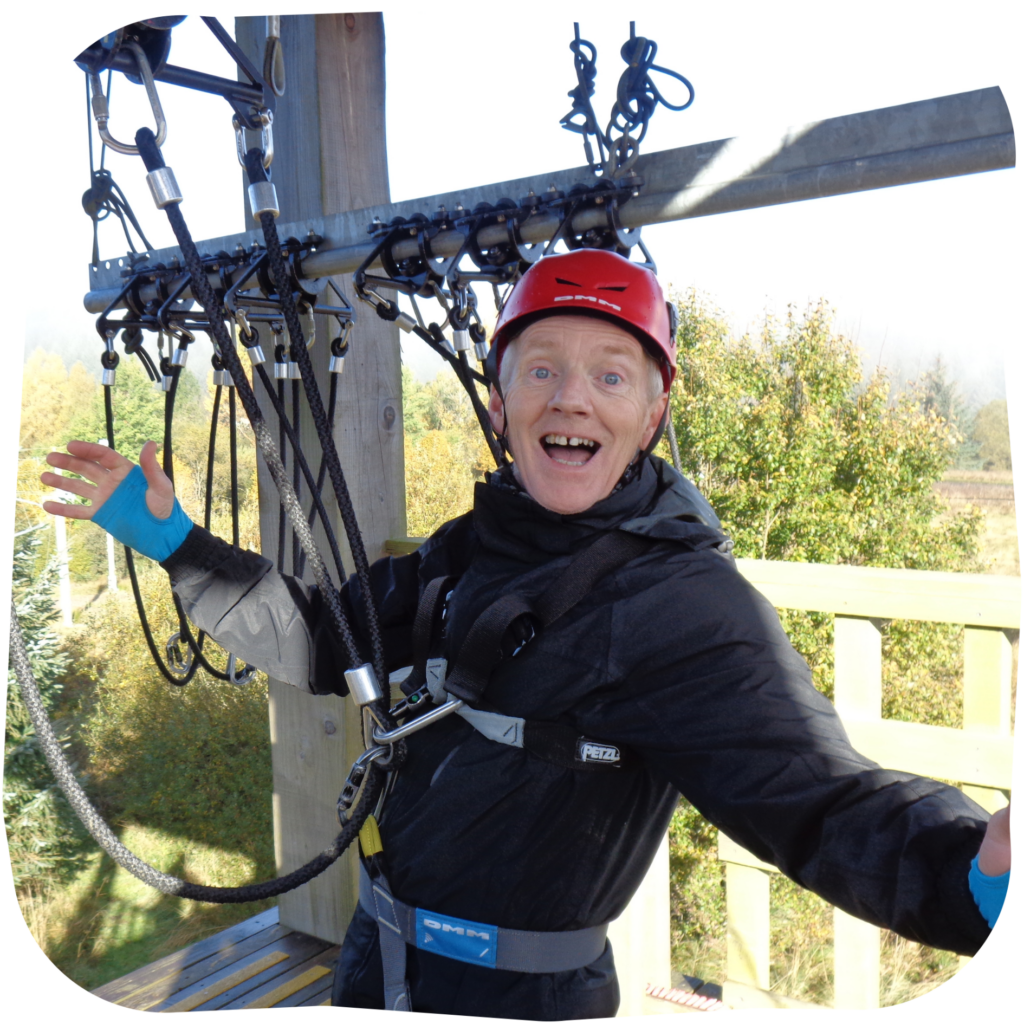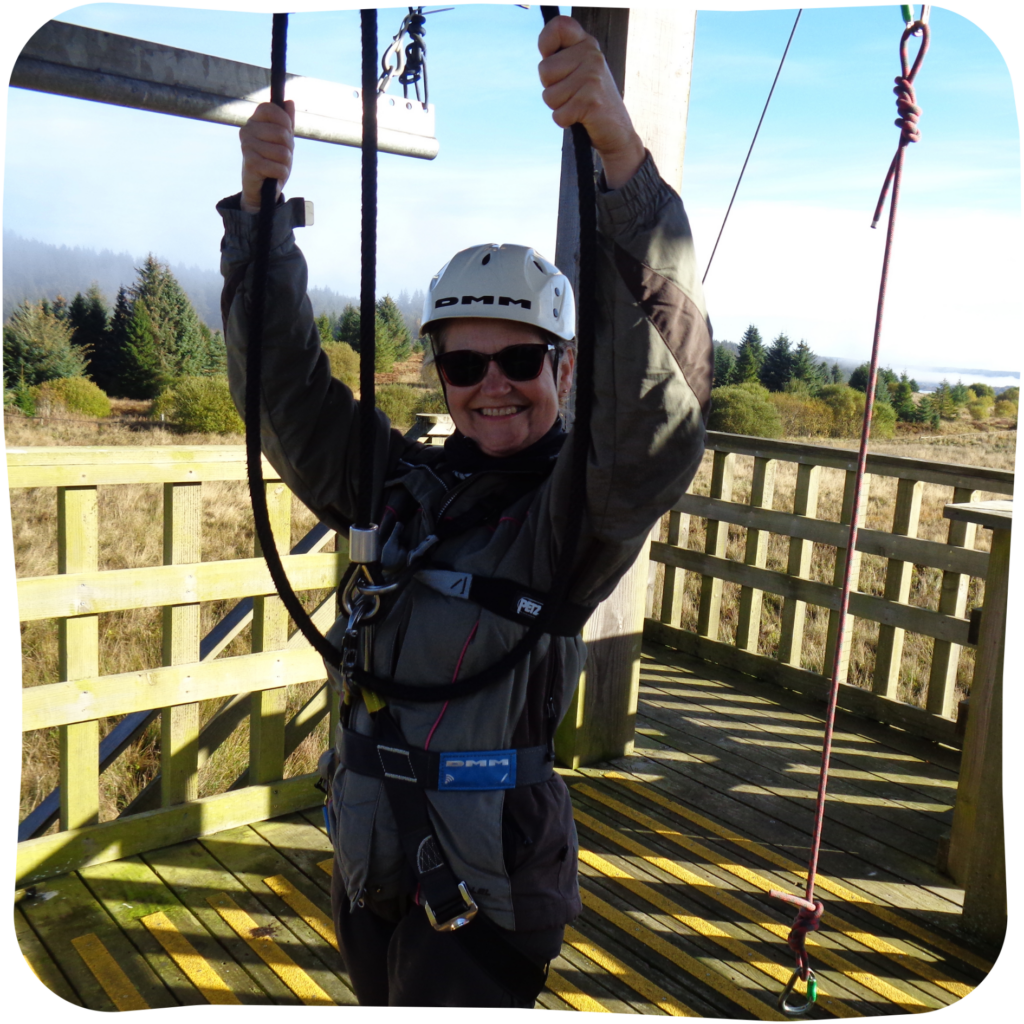 At home, the couple started thinking of ways to recapture some of the holiday's excitement, and are committed to continuing their active lifestyle.
"Andy can't remember now, but he enjoyed everything. The axe-throwing, the archery — the zipwire particularly. I think I need to get Andy to go to the local sports centre. They've got towers that you can jump off, stuff like that. The zip wire was just so funny."
"It was just really good, really well organised, because there was a little bit of culture and a lot of activity — and the weather was brilliant, which helped!"
Andy doesn't remember the details of the activities they did together, but the joy of the holiday has stayed with him.
"Get up and do it," he says. "Otherwise one day you'll go, 'Oh, I wish I'd done that river thing,' and that will be it. I thought the whole thing was brilliant."
---
Andy passed away in January 2023. He was someone who radiated positivity and we know he'll be deeply missed; it was a privilege to support him and Sue on their break.
Many thanks to Sue for giving us permission to continue sharing the story of their adventure with us.
---
If you're interested in booking a supported dementia holiday, you can find out more here. We offer tailored or small-group holidays in a range of destinations across the UK.
Research shows that outdoor activity and connection with the natural environment can have a positive effect and slow down the progression of symptoms of dementia.