Jo is an Occupational Therapist (OT) who works with people living with dementia and has been volunteering with Dementia Adventure since 2018, most recently on a trip to

Devon

. We sat down to speak to Jo about how

volunteering on our holidays

has impacted her work as on OT.
Volunteering alongside full-time work
I work in dementia care, so I'm passionate about supporting people who live with dementia. That was my main reason for choosing Dementia Adventure. I've always liked to do some volunteer work, but it's hard fitting volunteering around a full-time job, so I really value that I can dedicate five days to give my all to something! If I was dipping in and out of something alongside work, I might not be able to give as fully, so taking a week off felt easier than doing something constantly throughout the year. It just works.
It's a long, intense day, but it's also incredibly rewarding and enjoyable
Volunteering means helping out with practical things, like finding people's coats and preparing meals, but you're also just encouraging people to get involved in things while you're out and about, like paddling in the sea or stroking the donkeys at the donkey sanctuary. Mostly, it's just ensuring everyone's having a good time. If a carer needs a bit of respite you might spend some time with the person they care for; in Devon we supported two of the men living with dementia so that their partners could relax in the hot tub with a drink!
You need to be prepared to throw yourself into whatever's going on. You're helping to make it fun – it's a holiday, so you just want people to have the best time that they can. The most important thing is being there as a point of support as and when needed and supporting the Adventure Leader. You start before 8am and by the time you're done in the evening it's 10:30-11pm, so it's a long, intense day, but it's also incredibly rewarding and enjoyable.
It's given me greater empathy and understanding, which I carry over into my job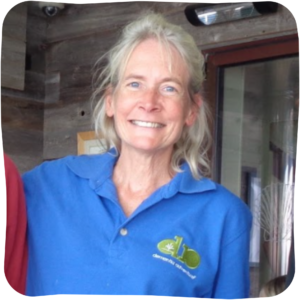 For someone working in a dementia care service, volunteering on a Dementia Adventure holiday gives you a completely different perspective on the reality of living with and supporting somebody with dementia. It's given me much greater empathy and understanding, which I can then carry over into my job. I think that's really, really important, because in my job I see somebody who's living with dementia and their family for maybe two hours at a time. That is totally different to spending four solid days with somebody and really understanding the challenges people experience.
You'll never get tired of Volunteering with Dementia Adventure
People living with dementia have taught me lots about what helps them, and I have learnt masses from working with different families on holiday and their assorted approaches. You meet so many lovely people and hear about people's life stories and their different experiences. I also get to learn from the other volunteers and Adventure Leaders. I don't think volunteering with Dementia Adventure is something you could ever have enough of, because it's lovely and varied!
Dementia Adventure's ethos and philosophy completely fits with my values as an OT, because I'm always looking at how to support somebody to live the best life that they can and to be as independent as possible, despite living with very significant difficulties and challenges. That's what Dementia Adventure is all about, so it resonates with me a lot. It's very easy with an illness like dementia to look at what people can't do any more, but as an OT you need to constantly re-evaluate what somebody can still do. What do they still gain enjoyment from, what can they still take part in with their family? That's what drew me to Dementia Adventure.
Dementia Adventure is also a great organisation to volunteer for because they're really supportive of volunteers. The training that I got when I started was excellent. Even though I only volunteer once a year, they keep me very informed and I feel involved in what's going on. If I had a worry or concern about something that had happened on a holiday, I'd feel quite comfortable approaching the organisation to talk that through. I like the fact that you get asked your opinion, and that you do feel you are able to contribute and make suggestions.
My favourite parts
Anything with animals seems to go down really well – the donkey sanctuary in Devon was lovely. When somebody's experiencing difficulty with communication, they can seem so comforted by the fact that we don't have to communicate verbally with animals. It's a different kind of communication.
Sometimes it's the things that happen spontaneously that work really well. One night somebody got Spotify out and everybody chose a favourite song to play and, within their abilities, had a little chat about why they'd chosen that song, what it meant to them. That was really lovely, very natural.
The main thing I pick out is that it's so lovely to enable people to have fun and do things that they wouldn't be able to do just as a couple or pair, while also having fun yourself. On one holiday two people who were living with a diagnosis of dementia actually went in the sea for a swim, and their partners both said, "There is absolutely no way we would have done this independently, because we'd have been too worried about the risk." It's lovely to support people to do things like that. I also remember when we went to Norfolk, we got some beautiful photographs of people having a go on this little mini zipline and just being in hysterics laughing. It's just joyful, amongst situations that can actually be incredibly difficult. People are often living very difficult and challenging lives, and the holidays mean people can have a normal fun time together and provide a lot of good memories.
Volunteering on holiday helps you with skills that you can use in the rest of your life
It's a good chance to reflect on how you relate to other people and how you support them. It's made me realise the absolute value of listening and not always diving in with answers. I have to almost step out of my professional shoes when I go on a holiday and take on a different role, and I've reflected on that quite a lot. I think a lot of people value just having that time to talk and to be listened to, because as a family living with dementia can be very, very isolating, both for the people with a diagnosis and the family carers. It's definitely helped with listening skills and reflective skills for me.
Be brave and try it
Definitely sign up and do the training, and give a holiday a go! You get so much from it, and both you and Dementia Adventure benefit hugely from the time that you give. I'd like to think I'd carry on doing this for many years.
---
Volunteers are incredibly important to our work, and much of what we do is reliant on our dedicated team of volunteers. If you're interested in volunteering on a Dementia Adventure holiday, contact us or find out more here.